WaveSense has secured $15 million as part of a recent funding round led by technology investors Rhapsody Venture Partners and...
Read More
Plus (formerly Plus.ai) has announced it will equip the next generation of its autonomous truck driving platform with NVIDIA DRIVE...
Read More
Scantinel Photoncis GmbH has launched its chip-scale massive-parallelized scanning LiDAR system (OEATM) based on a photonic integrated circuit (PIC). According...
Read More
Rain and fog can make life difficult for the best drivers; ask any F1 racer. But it isn't just humans...
Read More
dSPACE and LeddarTech have entered into a partnership to jointly facilitate the development of new LiDAR technologies for autonomous driving....
Read More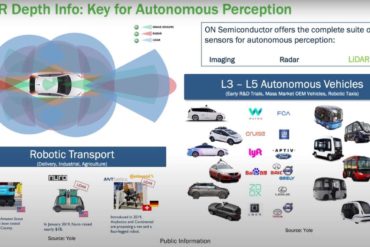 AutoVision News Managing Editor and AutoSens Insights host Carl Anthony talks with Wade Appelman, VP of the SensL Division at...
Read More
Ford has announced the pricing for its new Active Drive Assist feature, set to debut on the 2021 F-150 and...
Read More