---
The following is sponsored by OmniVision Technologies, Inc., a leading developer of advanced digital imaging solutions. OmniVision has launched its new OAX4000, a next-generation ASIC designed to support the multifunctional requirements of surround-view, e-mirror, and autonomous driving cameras.
---
According to a report from Allied Market Research, the global automotive camera market is projected to reach $24,092.1 million by 2025, registering a CAGR of 9.70 percent from 2018 to 2025. "The adoption of cameras in cars is increasing exponentially," said Andy Hanvey, Director of Automotive Marketing at OmniVision Technologies, Inc., a company identified by Allied Market Research as a key player in the automotive camera market. "One of the biggest pain points for OEMs and Tier 1 suppliers today is being able to support dual-use cases."
Machine Vision & Human Viewing
The dual-use cases Hanvey is referring to are machine vision and human viewing, which OmniVision's new OAX4000 is designed to support. The OAX4000 is a high-performance ASIC (application-specific integrated circuit) companion image signal processor (ISP) that offers design flexibility for next-generation automotive single- and multi-camera architectures. Likewise, the companion ISP supports multiple color filter array (CFA) patterns and delivers output streams for both machine vision and human viewing pipelines independently. Its compact size (7 x 7 mm BGA) reduces complexity, saves space, and increases reliability.
"We provide an ISP with a large enough throughput, and getting that to the right point is important when it comes to addressing the challenges and solving the problems around what OEMs and Tier 1 suppliers need to support," Hanvey explained. "The CFAs also cannot be underestimated. The support for all of the different types of CFA patterns is necessary as we are seeing more and more dual-use cases today."
Increased Throughput
The OAX4000 supports a wide range of automotive camera architectures and applications, including surround-view systems, e-mirrors, driver monitoring systems, and fully autonomous platforms. One of the key differentiators of the OAX4000 is the increase in throughput, or more specifically, the number of pixels the ISP can process. "What that converts to is the number of cameras, resolutions, and framerates you can support," Hanvey said.
With a 400 megapixel ISP throughput, the OAX4000 supports:
4x 1920x1536p30
3x 1920x1080p60
1x 8Mp30
"Increasing this throughput means we can increase our capability in terms of what we can do with machine vision and human viewing pipelines," Hanvey said. "In addition to that, we are also adding next-generation ISP processing and tone-mapping, along with multiple CFA patterns."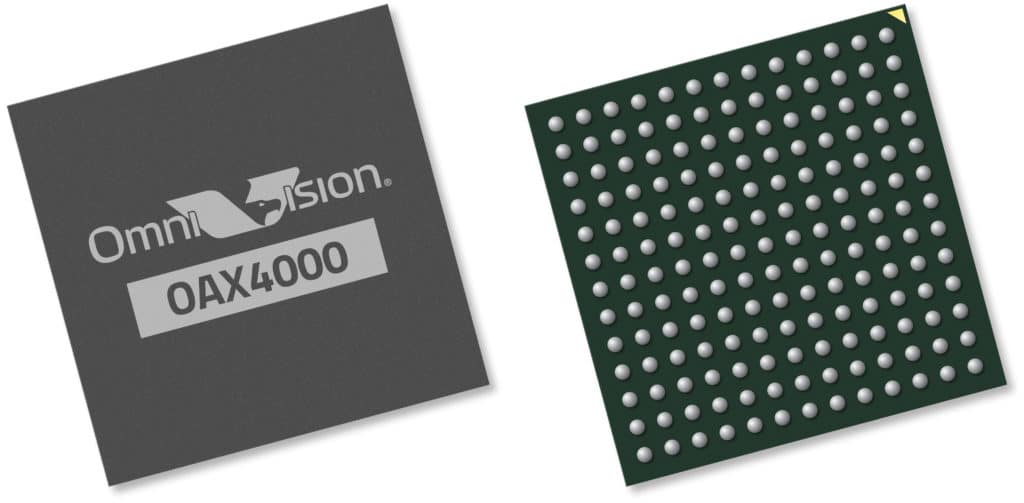 Multiple CFA Patterns
CFA patterns supported by the OAX4000 include:
"When we say multiple CFAs, what we mean is the color filter array that goes over the photodiode," Hanvey explained. "This determines effectively the color of light that the pixel can see, but this has an impact on the ISP. At a pixel level, it's relatively straightforward, but on the ISP side, it adds complexities when supporting all of these different CFA patterns."
Since the OAX4000 supports multiple CFA patterns, it gives OEMs and Tier 1 suppliers the ability to utilize a camera for more than one use case. "RYYCy is an excellent example because it's used for machine vision, but there is also a push for that same camera to be used for human viewing," Hanvey continued. "Our customers need to process that CFA for a human-viewing ISP so it looks good when it's being displayed, but at the same time, they still need to run the machine vision algorithms."
OAX4000 Technical Slides
The six slides below showcase the design flexibility of the OAX4000 with regard to different automotive applications. They are organized as follows:
Advanced Architectures: slides one and two.
Multi-Camera Architectures: slides three and four.
Single-camera architectures: slides five and six.
Among the key details in these slides is how two image sensors were needed in the ECU module with the previous generation (OmniVision's OV491 ISP). Because of its compact size, only a single OAX4000 is needed in the ECU module to support four cameras. This stems from a prior OmniVision innovation, in which the company moved the ISP (typically on the camera side) into the ECU module.
Single & Multi-Camera Architectures
To help automakers and Tier 1 suppliers "future-proof" their designs and reduce the time to market, the OAX4000 accommodates a wide range of architectures and is ASIL B compliant. As a companion ISP for the OmniVision HDR sensors, the OAX4000 is ideal for multi-camera or single-camera applications, both of which are necessary as individual sectors of the market have different requirements.
"The strategies for developing vision processing for advanced driver assistance serving the mass consumer market, shipping and transit, mobility-as-a-service or tomorrow's autonomous vehicles are all on diverse paths," said Tom Hackenberg, Principal Analyst for Computing and Software in the Semiconductor, Memory and Computing Division at Yole Développement. "It can range from smart camera modules to a multitude of basic cameras attached to a single domain controller. It may require integrating other sensors to imaging. What is clear is that there are many paths to vision processing and image processing will need to be rich in features and adaptable to all of these scenarios."
To support multi-camera architectures, such as a surround-view monitor or e-mirror, the OAX4000 remains in the ECU module (its compact size allows for this to happen). A single OAX4000 will support four cameras streaming up to 1920 x 1536 at 30 frames per second. Similarly, just one OAX4000 will accommodate three cameras in the e-mirror system streaming at 1920 x 1080 at 60 frames per second. Regarding single-camera architectures, such as an eight-megapixel human-viewing application, the OAX4000 is also placed inside the ECU.
"The other alternative we can support is placing the OAX4000 inside the camera module and outputting the YUV to have less processing inside the ECU," Hanvey said, noting that OEMs have their own preferences when it comes to architectures. "It's important to be able to support the processing in either the ECU or camera module, especially with such a high-resolution sensor."
Versus the prior generation, the OAX4000 offers a power savings of more than 30 percent, a key feature no matter where the ISP is located. "We want to avoid OEMs having to do expensive heat syncing," Hanvey added. "The more we can do on our end to reduce power consumption, the less our customers need to do for thermal management."
Learn More About The OAX4000
OmniVision's OAX4000 ISP will be presented live at AutoSens Detroit on May 12th and 13th. The OAX4000 is available now for sampling and mass production. AutoVision News readers are encouraged to contact their OmniVision sales representative.
"The key takeaway here is that it's our mission to help automotive OEMs by understanding the problems they need to solve now, as well as in the future," Hanvey said. "The new OAX4000 ISP offers the design flexibility and compact size to fit into a wide variety of camera architectures, reducing development complexity and cost and potentially speeding time to market."