---
The following is sponsored by OMNIVISION, a leading global developer of semiconductor solutions, including advanced digital imaging, analog and touch, and display technology. OMNIVISION has launched its new OX03D4C, an industry-first three-megapixel (MP) resolution system-on-chip (SoC) for automotive surround-view systems, rearview systems, and e-mirrors.
---
According to an IMARC Group study, the global automotive surround-view systems market is expected to grow at a CAGR of 18 percent between now and 2026 (after reaching USD 1.5 Billion in 2020). The increased integration of automotive surround-view systems also correlates to the prevalence of several other emerging technologies in automotive, including IoT and machine learning, as noted by the IMARC Group. These market trends explain why OEMs are pushing for higher performance solutions for their next-generation viewing applications. Adding to the performance challenges are cost and packaging considerations, especially as vehicles become more advanced.
"Since automotive OEMs are also stylists and designers, they want the camera as small as possible, so the consumer doesn't know it's there," explained Andy Hanvey, Director of Automotive Marketing at OMNIVISION. "Similarly, our OX03D4C SoC enables OEMs to keep the same optical format and mechanics from their previous-generation solutions."
OX03D4C Key Features 
The OX03D4C is a three-megapixel resolution SoC for automotive surround-view systems, including rearview systems and e-mirrors. The new SoC has the smallest 2.1µm pixel size in a 1/4-inch optical format and includes a fully integrated image signal processor (ISP) supporting RCCB and RGGB CFA patterns. "The mechanical fittings for most cars are already set up for this quarter-inch optical format," Hanvey continued. "The OX03D4C gives OEMs a trajectory to move from a one-megapixel to a three-megapixel solution, but it's more cost-effective because they can reuse existing lenses and other mechanical components."
Other key features include a 140dB high dynamic range, lower power consumption (<500 mW), and unmatched LED flicker mitigation (LFM) performance. "LEDs are found in many places, including traffic lights, overhead lights on the motorway, and the taillights and headlights of other vehicles," Hanvey said. "Since flicking LEDs end up in the video being displayed to the driver, it can be potentially distracting. When it comes to the OX03D4C, it was important for us to implement LFM right from the start."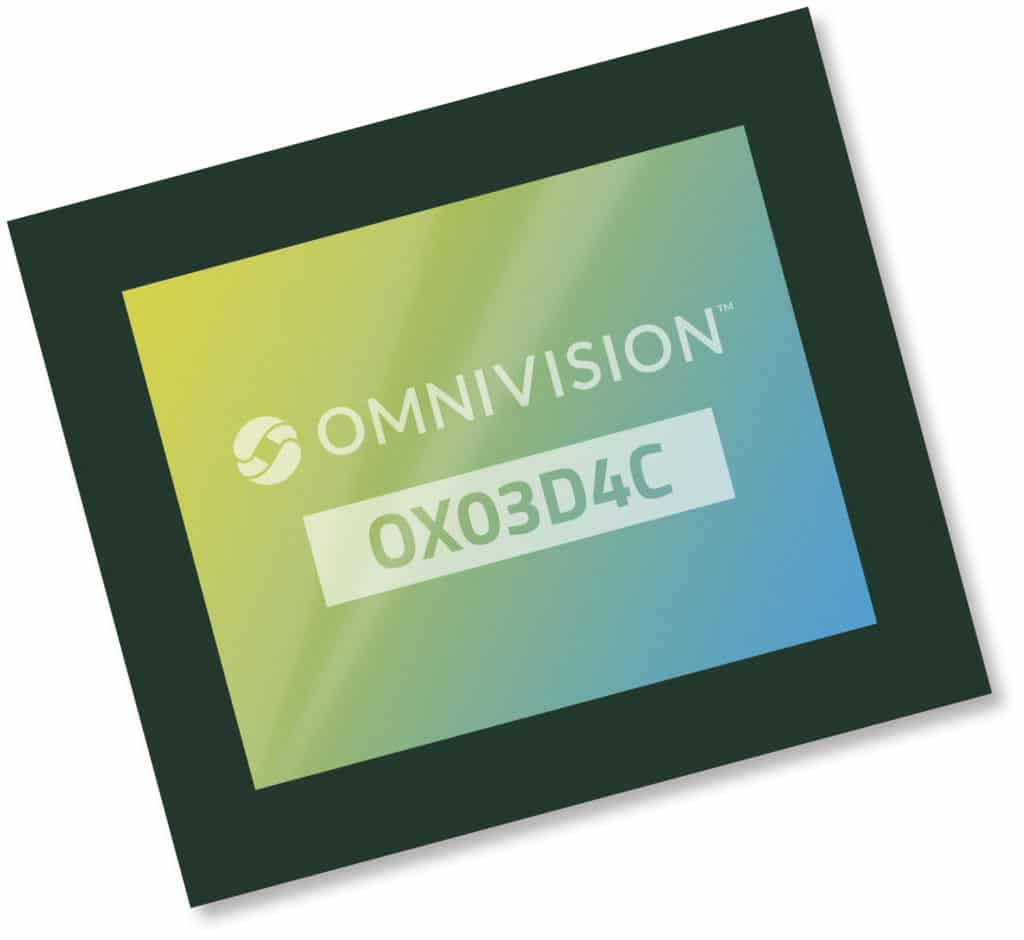 Enabling Next-Gen SVS & Smart Cameras
Surround-view systems must keep pace with other key features, particularly ones that will be promoted to the press and general public when new vehicles are revealed. For example, automakers have increased the torque output of their trucks and SUVs to keep pace with consumer demand for greater towing and payload capacities.
Automakers often market the power increase with specific features that make towing more manageable, like a tow-haul mode, transmission oil cooler, and integrated wiring harnesses and trailer brakes. In the same way, more intuitive surround-view systems make it easier to maneuver a large boat or trailer. With use cases like this, the surround-view system must receive the same level of attention as the powertrain.
The OX03D4C enables more intuitive surround-view systems via its next-generation tone-mapping algorithm and simultaneous output of the YUV and RAW process streams. As a result, the OX03D4C provides four on-screen display overlay layers for driver guidelines, plus distortion correction to straighten any curved edges from lenses with a wide viewing angle. "The OX03D4C will help OEMs develop smart cameras with object and pedestrian detection, and it's optimized to deliver ideal performance over the complete automotive temperature range," Hanvey said. "The OX03D4C will give the end-user a more accurate representation of the environment they are driving working in."'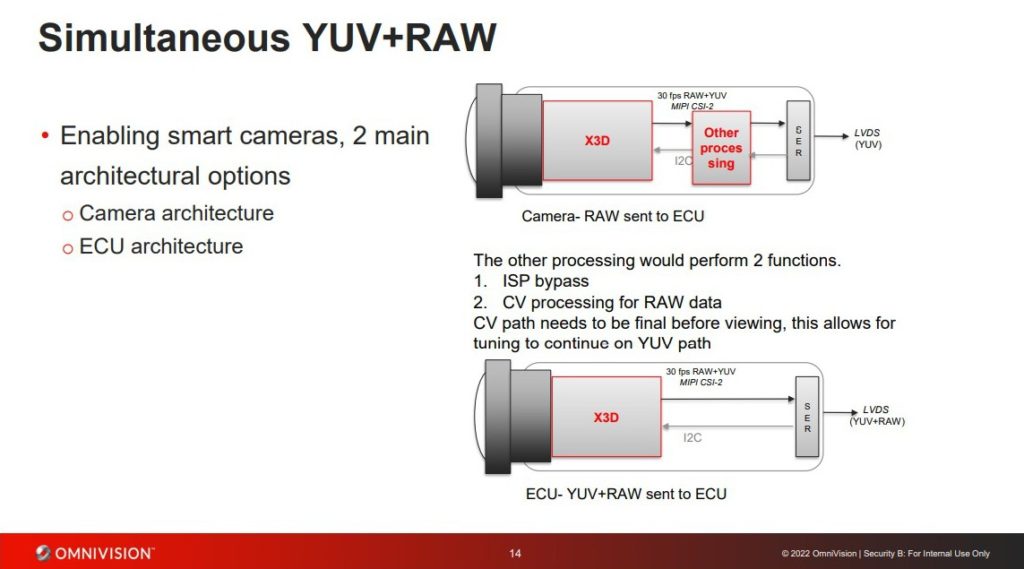 Cost, Size & Power
OMNIVISION's OX03D4C includes the pixel array and ISP within a single package, meaning automakers will see immediate benefits. "Absent an integrated ISP; you will have additional, discrete components like an image sensor, chip ISP, and a serializer," Hanvey explained. "The a-CSP package size allows small cameras to fit in tight spaces."
Meanwhile, the image sensor is built on OMNIVISION's PureCel Plus-S stacked die technology, which separates the imaging sensor array from the image sensor processing pipeline. This configuration better supports the additional functionality required for next-generation viewing applications, ultimately improving performance in a much smaller footprint when compared to non-stacked sensors. Since the OX03D4C consumes less power, a plastic case can be used to lower weight and cost.
"Stacking is a key technology OMNIVISION uses within automotive because we can make our products as small and efficient as possible," Hanvey explained. "The OX03D4C helps OEMs meet these important requirements for surround-view systems, rearview systems, and e-mirrors."
"The new OX03D is very impressive as the industry's first 3MP SoC that packs high performance and a comprehensive set of features into the smallest size," added Hiroyuki Iwanami, assistant director, Techno Systems Research Co., LTD. "In addition, by integrating both the image sensor and ISP into a single chip, designers can save on both cost and space."
Learn More About The OX03D4C
Samples of the new OX03D4C are available now, with mass production scheduled for Q4 2022. Contact your OMNIVISION sales representative for more information. The OX03D4C SoC complies with ASIL B advanced safety standards.
"We have been in automotive for over 15 years, and we have strong relationships with Tier 1 suppliers and OEMs; we talk to them a lot, and we understand what they need," Hanvey said. "We are in a position to introduce the products necessary to enable next-generation applications."