---
The following is sponsored by XenomatiX, a pioneer of true-solid-state LiDARs for ADAS, autonomous vehicles, and other road applications. XenomatiX has launched its new XenoLidar-X, a stand-alone, off-the-shelf solution for modular integration via two distinct versions: Xpert for long-range applications and Xact for mid-range applications.
---
The only moving part is the vehicle. This philosophy has guided XenomatiX since it began developing its multi-beam LiDAR in 2012. The XenomatiX multi-beam concept first emerged as a short-range LiDAR for road scanning applications, namely for active suspension systems. When it arrived as the company's first product in 2015, the high-resolution LiDAR helped OEMs develop a more responsive suspension system and thereby offer a greater degree of comfort and safety for vehicle occupants.
The product proved so popular that XenomatiX continues to offer its automotive suspension LiDAR solution today. It can be fitted to any passenger car or can be used for Motorsport applications. Height profiles are accurate to within a millimeter and fully aligned with any tire profile.
"Based on that, we further developed the long-range LiDARs, which we brought to market in 2017," said Filip Geuens, CEO of XenomatiX. "And now, in 2021, we have launched the next-generation of that LiDAR which is already close to the mass production solution."
XenoTrack & XenoLidar
XenomatiX offers two unique product families today: XenoTrack and XenoLidar. XenoTrack is a solid-state, high-precision, short-range road profile LiDAR that can be mounted on any vehicle. It provides accuracy within a millimeter and can be used to identify road conditions and geometry, as well as small and nearly invisible objects. XenoTrack itself consists of two variants: XenoTrack RearView and XenoTrack FrontView. Both are pre-installed with the company's 3D point cloud software.
The second product family, XenoLidar, or now XenoLidar-X, is the next-generation, solid-state solution Geuens is referring to. The original long-range XenoLidar, also known as XenoLidar Highway, has a resolution of 0.2°, created by using 5,000 laser beams. "The question now becomes what kind of step-up are we talking about with XenoLidar-X," Geuens said. "We are going from 5,000 laser beams to 15,000 laser beams, which we are projecting simultaneously. That improves resolution to a level of 0.15° horizontal and vertical, which is in line with the most common market requirements nowadays."
XenoLidar-X is best described as a stand-alone, off-the-shelf solution with no moving parts that can be utilized for autonomous and industrial applications. Its modular, full-silicon design makes it effective in operational contexts where lighting and weather conditions can vary to a great degree. XenoLidar-X provides a simultaneous optical output power increase and an electrical power consumption decrease by a factor of 10, using a unique concept of performant global shutter (i.e., multi-beam). With multi-beam flash projection, XenoLidar-X provides a high-resolution analysis of the vehicle's surroundings.
"XenoLidar-X supports what we call the centralized architecture, where there are multiple sensors in the vehicle and multiple LiDARs with a single controller," Geuens explained. "We have also been working hard on the cost and reducing the number of components."
Up to 6D output is available for XenoLidar-X, including point cloud with 3D geometry and intensity, plus the 2D camera image from the same receiver chip. "The advantage is that only one sensor and one physical unit will provide two types of data," Geuens continued. "All of the know-how that our customers build up with cameras and artificial intelligence, and with classifying and detecting objects, they can now add the point cloud information to it."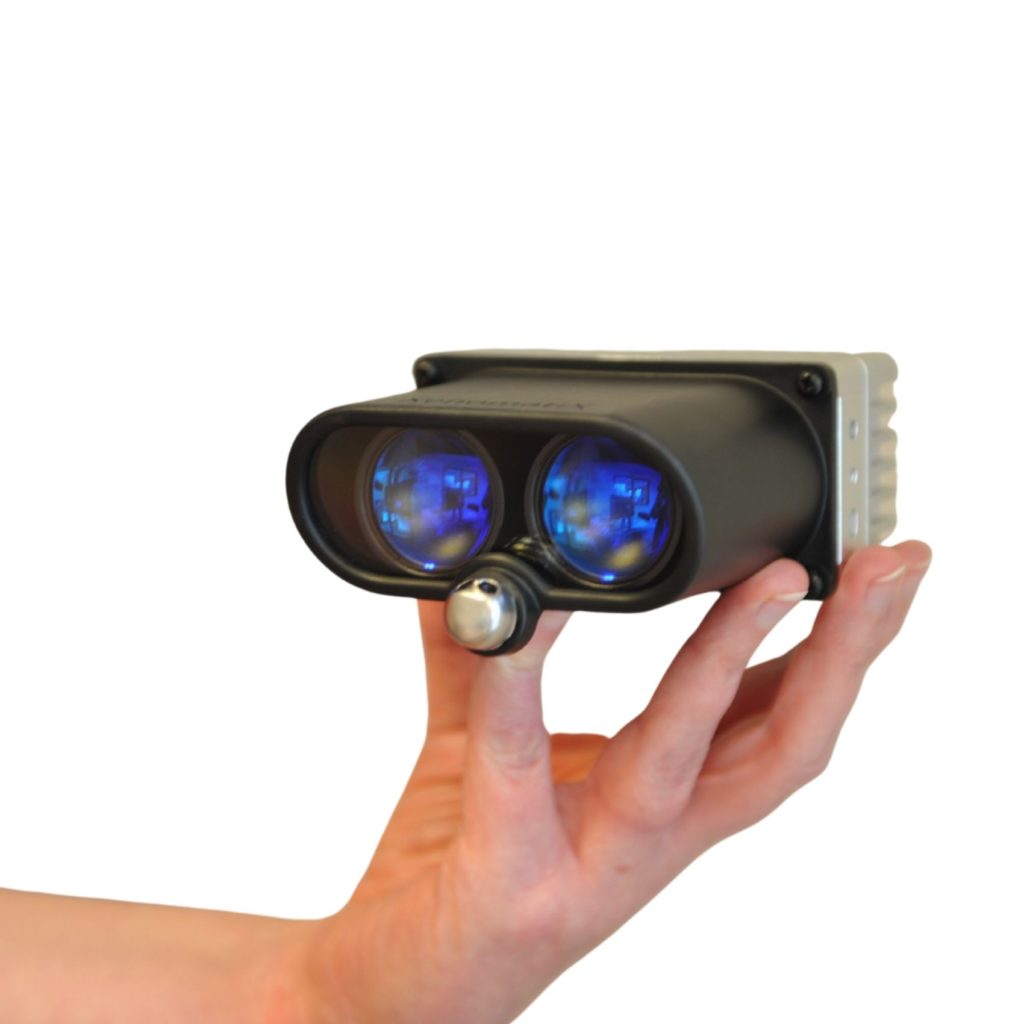 Xpert & Xact
One of the main characteristics of XenoLidar-X is how it's fit for modular integration via two distinct versions: Xpert for long-range applications and Xact for mid-range applications. Xpert and Xact are based on the X-Module concepts, compact, monolithic sub-units that allow a XenomatiX customer to design and assemble their own LiDAR. "X-module technology is the development focused on mass production because they are the compact LiDAR units for integration in vehicles," Geuens explained. "It is based on these modules that we have created new, stand-alone XenoLidar solutions."
Integration is an essential element of the company's ongoing partnerships with Tier I automotive suppliers, like AGC, Marelli, Kautex, and others, to create a complete, customizable, and flexible LiDAR solution. "Today, we bring to the market a cost-effective LiDAR solution in full preparation for mass production," Geuens added. "The feedback we get from OEMs and Tier I suppliers indicates our product delivers a welcome fit to their concerns."
"Marelli is glad to start a collaboration with a high-tech added value partner like XenomatiX," said Sylvain Dubois, CEO of Marelli Automotive Lighting. "Our objective is to support our customers in enabling a crucial set of functions in the ADAS and AD field thanks to the true solid-state LiDAR technology of XenomatiX."
XenoLidar Xact (mid-range) Specifications
Range: up to 50 meters
Field of View: 60° x 20°
Angular resolution: 0.3° x 0.3°
Data output rate: 20 Hz
Applications: Ideal for exact localization and classification of objects, outside or inside, in dynamic or static applications for automotive and non-automotive markets.
XenoLidar Xpert (long-range) Specifications 
Detection: up to 150 meters
Field of View: 30° x 10°
Angular resolution: 0,15° x 0,15°
Data output rate: 20 Hz
Applications: Ideal for safety and detection applications in automotive and non-automotive markets.
Since both units are stand-alone solutions, they can be utilized in different ways to achieve a desired result. For example, two Xact units can be combined for a 120-degree field of view. One unit could be positioned on the vehicle's left-front while the second would be positioned on the right-front (like the left and right headlights, for example).
"It is possible, depending on the requirements of your application, to combine the Xact and Xpert units to create the required field of view," Geuens said. "The units are compact enough that up to three modules can be connected to a single controller to get the coverage your application needs."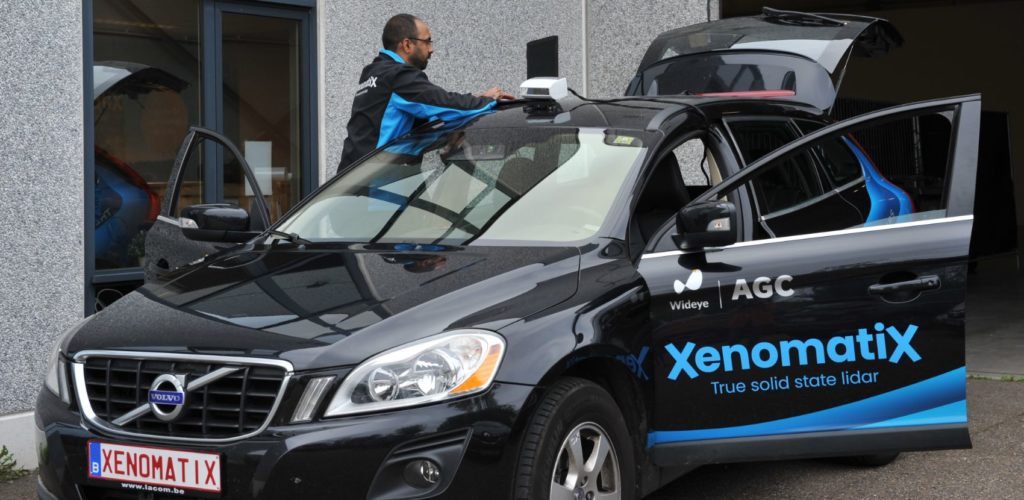 More Information
XenomatiX is currently moving XenoLidar-X toward mass production, and demonstrations are available by request. The company is headquartered in Belgium, with sales offices in China, Germany, and the United States. XenomatiX can also be reached by phone: +32 (0)16 40 64 34 or via email: [email protected]
XenomatiX is a privately-owned company backed by financial and strategic investors with long-standing experience in the semiconductor, optical, and automotive fields. Among the shareholders are the three founders, several business angels, and two large multinationals who are market leaders in the optical and automotive domains. Core values of the company include Reliability, Innovation, and Respect.
"We are proud to have earned the ISO 9001:2015 certification without any major remark, confirming we operated already in a structured and quality-focused way," Geuens said. "ISO 9001:2015 certification assures our customers that XenomatiX focuses on delivering products and results in line with their expectations, based on a transparent quality management process."