When Kristin White moved to Japan in her 20's, she learned about ikagai. It's a Japanese word that translates to "a reason for being" and includes four key areas of life: what you love, what you're good at, what the world needs, and what you can be paid to do. Kristin had always recognized this in her parents, who were both teachers. Later, she would lean into it herself as she moved through her career.
Kristin and I met about four years ago while I was with VSI Labs, and she was the Connected and Automated Vehicle Innovation Director at the Minnesota Department of Transportation (MnDOT). We crossed paths as our respective companies worked together to hold automated vehicle demonstrations for government stakeholders and community members throughout the state. Have you ever met someone you felt was perfectly suited for the work they were doing? That's how I felt when I met Kristin.
Private Practice to Public Service
According to Kristin, though, this wasn't always the case. "I was working in private practice and was really unhappy and restless," she said. During that time, a friend recommended looking into public service – more specifically, the transportation sector, where she could help affect change using her advocacy skills. "Transportation touches all our lives – from planning streets and communities to addressing the environmental impact, to engineering bridges and learning how to engage with tribes and community members. All of this had a legal and policy aspect to it which I quickly found fascinating," she added.
After a period as Associate Legal Counsel for MnDOT, Kristin was asked to consider an innovation role where she'd develop a program to plan the future of transportation using technology. "I jumped at the opportunity," she recalled, adding, "Not because I'm a techie (which my very savvy IT expert brother reminds me I'm not), but because of the opportunities technology and innovation can bring to our lives." Since this pivotal moment, Kristin has been working closely at the center of technology, innovation, and mobility – from supporting the adoption of automated vehicle technology to providing equitable transportation opportunities in underserved communities.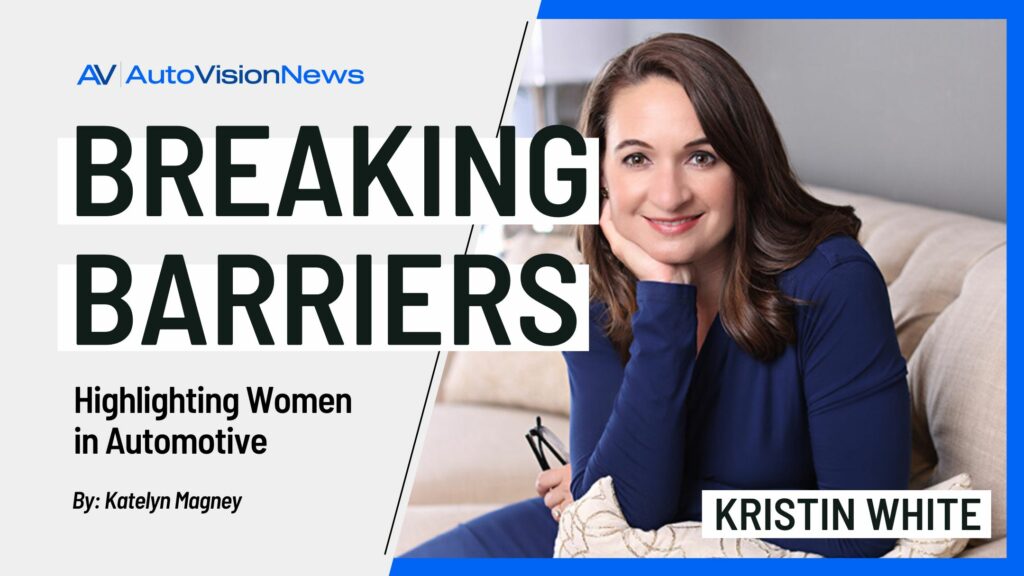 Struggles & Frustrations
While Kristin considers her early career obstacles as forks in the road that led her to where she is today, she shared several struggles with me. For example, she talked about growing up in a working-class family in a rural, economically depressed state. "I would sometimes feel frustrated that the universe didn't bestow my family and community with more privileges and wealth," she said. "However, that certainly made me work harder in school to earn scholarships and find creative ways to succeed – like working four jobs in college." She's not exaggerating. Kristin was a resident assistant, received a stipend working in student government, was a paid intern at the Capitol, and worked part-time for the Center for Experiential Learning – all at the same time.
Looking back, Kristin reflected on many times she didn't ask for help despite having mentors, professors, and others offer their support. "I conducted numerous informational interviews. And yet no matter how kind those folks were, I was so afraid to use them as resources, referrals, or for advice that I lost key opportunities to advance my career." Now, when Kristin talks to students and young professionals, she reminds them she's there to support them and is invested in their future. "Reach out to me. Call me. Text me. LinkedIn message me," she tells them. "There is no question too silly and no issue too big for those of us who've overcome obstacles and become leaders to help with."
Kristin also talked about struggling with a lack of confidence early on. "It's the second-guessing ourselves; not applying for jobs when we only have some of the required skills; practicing a speech in our head before we speak in a meeting; questioning the motives of others around us; reiterating a point that was mansplained by someone next to us."
What Kristin describes is not uncommon. In fact, research shows women are less likely to positively communicate their performance and ability to others, less likely to report being "proficient" or "skilled" in programming languages on their resumes, and even less likely to use positive words in their titles and abstracts for papers.
Sexism & The C-Suite
Like many of the women I've interviewed, Kristin has dealt with sexism. She shared experiences where she conversed with tech companies without being looked in the eye, had her ideas stolen by lawyers she worked with, and even told what ITS is while being the director of an ITS program. "There is no room for error when it comes to sexism," she said. "Call it out. Find an ally. Talk to someone. These micro-aggressions and outright harassment cannot and will not be tolerated."
As a female executive in tech, Kristin doesn't have many women peers. In fact, McKinsey and Company and Lean In's annual Women in the Workplace report shows that only 25 percent of women in the workplace are executives. In the tech and transportation sectors, Kristin is one of only about 3 percent of female C-suite executives. She shared an anecdote I can certainly relate to, and I bet other women will, also: "Every single time I enter the room, I do what many communities of color do, and I scan to see if there are other women."
While she describes it as an isolating experience, she has found several ways to lead more boldly and heal from her experiences. These include practicing mindfulness and meditation, leaning on active allies, and practicing active allyship herself.
"I need to learn to lean out and not center my experience, especially when there are women and leaders of color in our sector who face many more harrowing experiences than I," she said. Kristin reads extensively on transportation equity and recognizes that while it can be challenging to be a woman in her sector, she also can't be complacent to the challenges of other marginalized communities.
Kristin is a wealth of knowledge and insight – so when I asked her what she'd recommend to someone just starting out in her career, you might not be surprised that she actually gave me a list of 50 things. We don't have room to share them all, so here are my personal favorites:
Align your personal values with your career. Make it a vocation.

Invest in nice pajamas.

It doesn't matter what grade or GPA you got. What matters is how you move beyond it with kindness.

It's not what you know, it's who you know. Network. Build relationships. Cultivate them like a plant. They need regular attention and care.

Protect women. Believe them.
AI & Equality
Before wrapping up, I took the opportunity to ask Kristin what trends she's seeing in transportation, and she mentioned several hot topics, including artificial intelligence, machine learning, digital transformation, and biotech. "AI like ChatGPT has so much power, and yet we don't know how to harness it. What keeps me up at night are the unintended consequences of technology and the disparate impacts it will have on communities, especially underserved communities," she said. "We can't allow tech to disrupt communities if it doesn't equally empower and lift them up."
Kristin has a great point – while these advances are exciting and powerful, technology can only take us so far if it's not equitable. We might have a long way to go, but having people like Kristin in leadership roles certainly makes me more optimistic for the future.
---
Thank you to Kristin for sharing her professional journey with us. To hear more stories from women in the industry, follow us on LinkedIn or subscribe to the AutoVision News newsletter. Or, to be featured, email [email protected].