Audi of America, Applied Information, and Temple, Inc., have announced a collaboration to help improve school zone safety, particularly around school buses where children and other vulnerable road users are present. The collaboration will begin as a development program in Alpharetta, Georgia, consisting of two fundamental connected vehicle applications: cellular vehicle-to-everything (C-V2X) technology and onboard units to broadcast relevant safety messages.
"Using next-generation cellular technology, we have an opportunity to help save lives of some of the most vulnerable road users – school children," said Pom Malhotra, Director, Connected Services, Audi of America. "We're proud to work with Applied Information and Temple to help make our roads safer."
How It Works & Top Use Cases
The C-V2X technology outlined in the development program will notify motorists as they enter a school zone and send alerts if they exceed the speed limit. Similarly, drivers will also be alerted as they approach a stopped school bus. Onboard units will relay the necessary safety messages and alerts from the school buses to C-V2X-equipped vehicles.
One of the most critical uses cases is when school buses extend the illuminated stop arm, which signals motorists to stop so children can safely depart the bus. According to the National Highway Traffic Safety Administration (NHTSA), stop-arm violations and illegal passing of school buses is a concern in all 50 states. NHTSA cites a single-day study conducted in Virginia in 1996 in 119 of the state's 131 school districts. On that day, 3,394 motorists illegally passed a stopped school bus. Multiplying that by a 180-day school year brings the total number of illegal passing to over 600,000 a year.
Audi, Applied Information, and Temple, Inc. believe C-V2X technology and onboard units could help reduce illegal school bus passings.
"Improving safety in school zones and at bus stops is a top priority of our connected vehicle development program," said Bryan Mulligan, president of Applied Information and executive director of the Infrastructure Automotive Technology Laboratory in Alpharetta, Georgia. "We are pleased to be working with Audi and Temple to help bring this advance in safety technology to the community."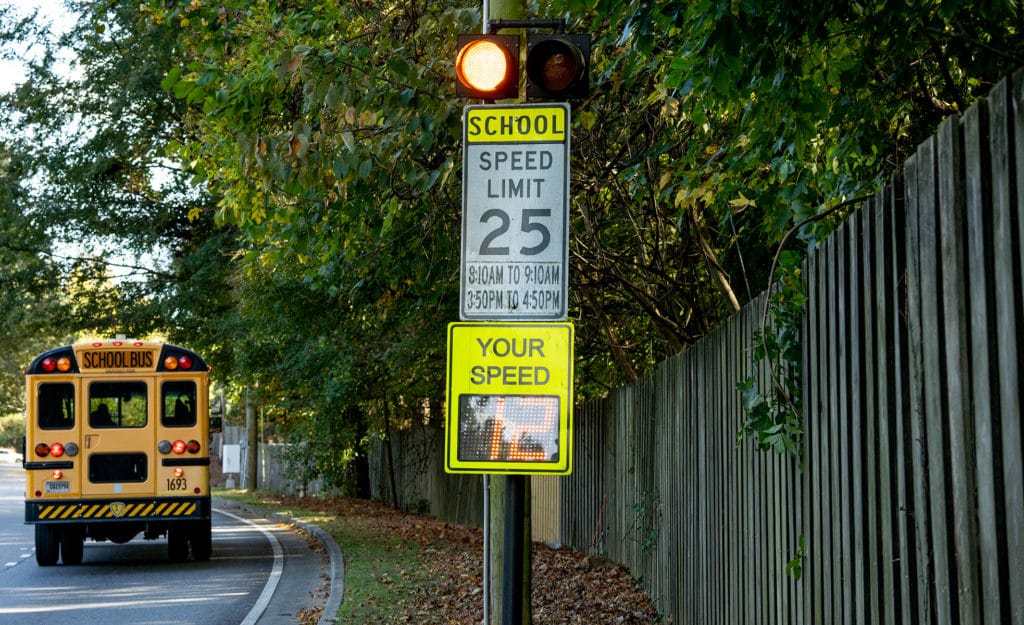 Another Critical Component
Roadside units will also play a role in broadcasting safety-critical messages to motorists. The plan is to install the roadside units in the school zone beacons, flashing signs that alert drivers to their speed. According to Audi, the roadside units can also make a motorist aware of unexpected but important schedule changes, such as a half-day at the school or an early dismissal or late start due to weather.
Testing & Development
The applications will be developed at the Infrastructure Automotive Technology Laboratory in Alpharetta, Georgia, using a test Audi e-tron equipped with prototype technology. The e-tron test vehicles are similar to those Audi uses with the Virginia Department of Transportation to help protect vulnerable construction workers. Applied Information plans to supply the onboard units for the school buses and school beacon roadside units, which Temple will deploy.
Audi, Applied Information, and Temple, Inc., consider Alpharetta, Georgia a prime location for testing vehicle-to-infrastructure technology. Most of the city's 125 traffic lights are already connected, and 55 are capable of direct C-V2X communication.
"Alpharetta is a city where innovation thrives, and our connected vehicle partnership is a prime example," said Alpharetta Mayor Jim Gilvin. "Using technology to improve roadway safety during the school year is yet another illustration of the creativity of our community and partners."