---
The following is sponsored by OMNIVISION, a leading global developer of semiconductor solutions, including advanced digital imaging, analog and touch, and display technology. OMNIVISION has launched its new OX05B1S, the automotive industry's first five-megapixel (MP) RGB-IR BSI global shutter sensor for in-cabin monitoring systems.
---
In a McKinsey survey of automotive executives, over 70 percent said they believe the interior (and subsequent in-car experience) will become increasingly more important with regard to future vehicles. The growing abundance of new vehicle types, including autonomous and electric, is identified by the McKinsey authors as being a key driver for the change in perspective towards the interior. "Cost control will also be critical," the authors write, "especially for features that are not readily visible or do not add value."
Industry-First Design
To meet these changing trends in the automotive market around vehicle interiors, OMNIVISION is introducing the new OX05B1S, the world's only five MP RGB-IR BSI global shutter sensor with cybersecurity integration for in-cabin monitoring systems (IMS). The OX05B1S is uniquely designed in that it enables both driver and interior monitoring with a single camera to help OEMs reduce the complexities associated with such a task, including cost and size.
"For an OEM to have a separate RGB and IR camera means it will be a significant cost adder as they will have two sets of lenses and two sets of wiring, among other considerations," explained Andy Hanvey, Director of Automotive Marketing at OMNIVISION. "It just doesn't make sense from a cost perspective, and space will be another key issue."
The five MP resolution of the OX05B1S allows OEMs to transition from driver monitoring to full interior monitoring with one inconspicuous camera located in the center of the vehicle's windshield. Automakers looking to offer additional interior safety and security features, such as rear occupant detection or rear door alert, will find the OX05B1S well suited to such use cases.
"Some of the OEMs, depending on the vehicle, will only need to see the second row, so basically just past the driver and front passenger," Hanvey said. "Still, there are times when an OEM will need to monitor the third row, but there are issues and challenges that can arise with needing to see farther back in the vehicle."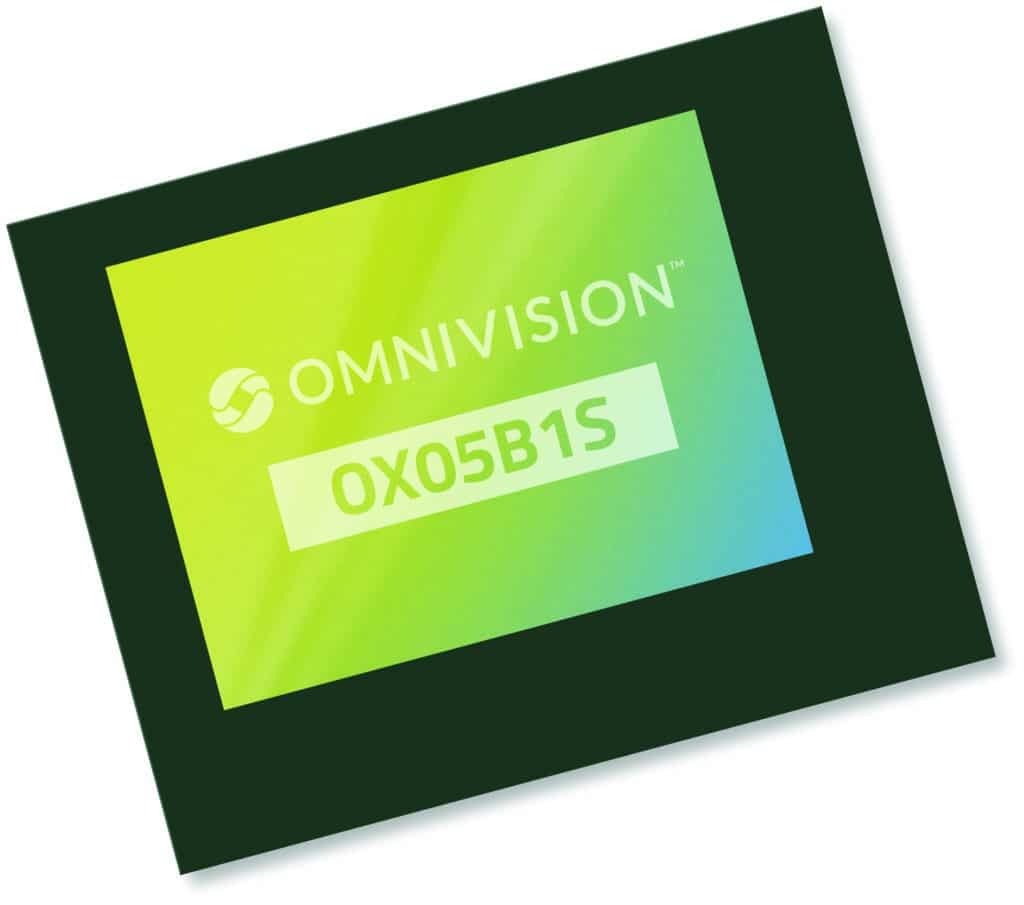 Nyxel Technology
The OX05B1S is engineered to provide OEMs maximum functionality in the smallest possible package. To ensure the most possible use cases are covered – for example, the rear door alert system in a three-row SUV – OMNIVISION utilizes Nyxel technology, a novel silicon semiconductor architecture and process to achieve the automotive industry's best quantum efficiency (QE) at the 940nm NIR wavelength.
The OX05B1S has the highest NIR QE at 36 percent (a 3x boost versus the previous generation). With the OX05B1S, automakers can detect and recognize objects that other image sensors would miss, especially during low light conditions. In turn, OEMs can deliver higher-performing and more reliable in-cabin features centered on safety and convenience for their customers.
"With Nyxel, equivalent performance is achieved with less illumination, which helps address cost and power," Hanvey said. "Using the example of the three-row SUV: you can only increase your LED power so much if you need to monitor the third row, but with something like Nyxel, OEMs can easily see back that far."
a-CSP Packaging
Complementing the performance of the OX05B1S is how it resides in a proprietary stacked a-CSP package which delivers the most compact solution on the market. The OX05B1S is also available in a reconstructed wafer option for designers who want the flexibility to customize their own package. "When you move the camera to the rearview mirror region, space is suddenly at a premium in that part of the car," Hanvey continued. "You need one camera with dual functions, but with Nyxel and the stacked a-CSP package, we can provide that capability to OEMs."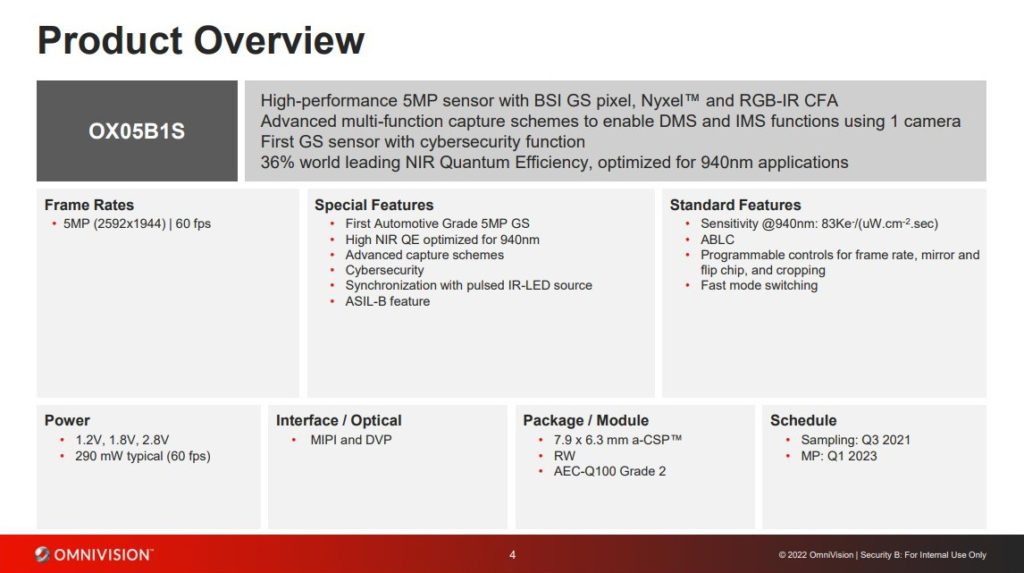 Cybersecurity Protections
In 2018, Synopsys and SAE International, along with the Ponemon Institute, conducted a study on the state of automotive cybersecurity. In that study, 63 percent said radio frequency technologies like Wi-Fi and Bluetooth posed the most significant automotive cybersecurity risk, followed closely by self-driving cars at 58 percent. "OEMs rely on hundreds of independent vendors to supply hardware and software components to deliver the latest in-vehicle technology and design," the authors of the study write, later revealing that 73 percent of those surveyed said they were concerned about the cybersecurity posture of automotive technologies supplied by third parties.
"At the end of the day, we have to ask if people would be comfortable driving a car where there's a risk the imaging system could be hacked," Hanvey said. "And in these cases, what would happen is the replacement of real images with dummy data, causing the car to make the incorrect decision."
The OX05B1S is the first RGB-IR sensor for in-cabin monitoring to feature cybersecurity protections. With the use of stacking it enables advanced features like this to be implemented in a power-efficient way. "Our sensors are going to be integrated into cars with higher levels of autonomy, so we want to make sure we have addressed cybersecurity and included that functionality," Hanvey said.
Learn More About The OX05B1S
Samples of the new OX05B1S are available now, with mass production scheduled for Q1 2023. Contact your OMNIVISION sales representative for more information.
"We have been in automotive for over 15 years, and we have strong relationships with Tier 1 suppliers and OEMs; we talk to them a lot, and we understand what they need," Hanvey said. "We are in a position to introduce the products necessary to enable next-generation applications."