An enhanced version of Cadillac Super Cruise will debut on the 2021 CT4 and CT5, followed by the all-new Escalade later this year. Engineers spent time updating the system's overall response and functionality, while also adding new driver-initiated features. The enhancements to Super Cruise come by way of GM's all-new digital vehicle platform, which provides more electrical bandwidth and data processing power.
"This is our most extensive update we've made to Super Cruise since its debut," explained Mario Maiorana, Super Cruise Chief Engineer. "We have made a number of improvements to make Super Cruise more intuitive, better performing, and more accessible for our customers."
What is Cadillac Super Cruise?
Cadillac Super Cruise can automatically steer, brake, and keep the vehicle positioned on the highway in certain, optimal conditions. With an attentive driver, and on compatible highways separated from opposing traffic, Super Cruise permits hands-free operation of the vehicle. Super Cruise is no longer exclusive to Cadillac either, as the Chevy Bolt is due to receive the technology next year.
New Features for 2021
Automated Lane Change, or Lane Change on Demand, is one of the biggest updates for 2021. It allows the car, when Super Cruise is engaged and if certain conditions are met, to change lanes automatically on the highway when the driver taps the turn signal indicator.
More broadly, Cadillac says the software is improved for better steering and speed control.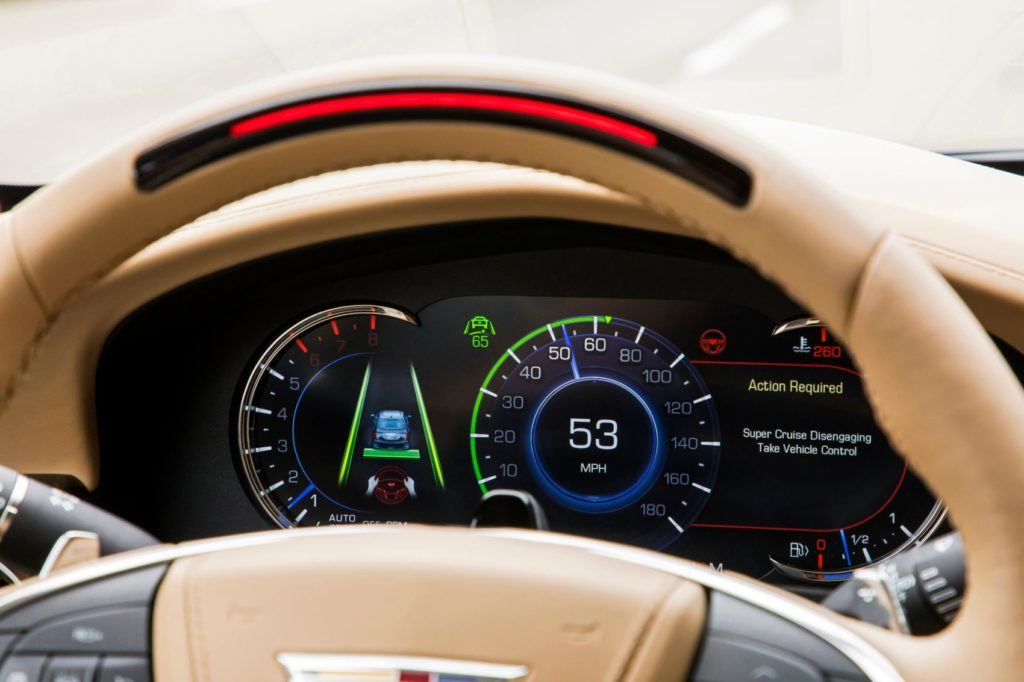 How Lane Change On Demand Works
When the driver taps the turn signal, Super Cruise looks for what Cadillac describes as an "acceptable opening" on the highway. Should Super Cruise determine the desired lane is open, the car will begin merging automatically. At that time, the gauge cluster flashes a message indicating the lane change has begun. The system displays messages such as "looking for an opening" or "changing lanes" to keep the driver informed at all times.
The driver attention system, a central component of Super Cruise, still requires the driver to focus during the lane change. Should the driver turn away, or become distracted while Super Cruise is engaged, the system will initiate a prompt. And if Automated Lane Change is unavailable for any reason, Super Cruise reverts back to the driver.
"In addition to the automated lane change functionality, we've made improvements to the user interface and hands-free driving dynamics," Maiorana added.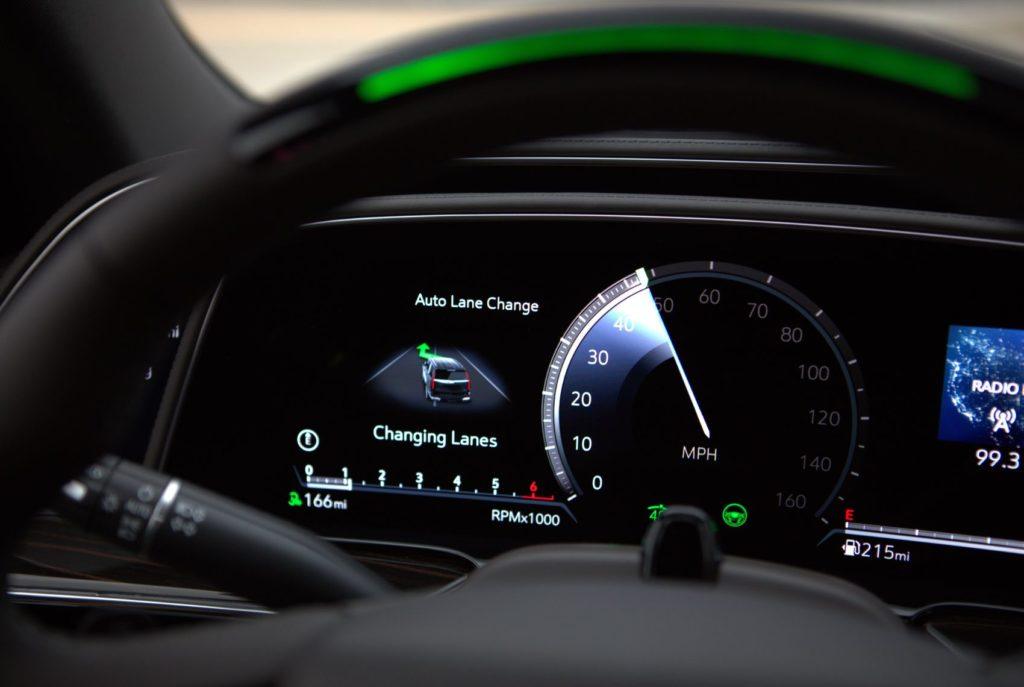 The Cadillac Super Cruise Ecosystem
Super Cruise employs the aforementioned driver attention system, along with precision LiDAR map data and a network of cameras and sensors that use real-time information. The data from each of these points helps govern and control steering, braking, and acceleration. As it concerns Automated Lane Change, the cameras and radar sensors continuously scan around the vehicle to determine if an opening exists in the desired lane.
"In order to add Automated Lane Change and provide our customers with the same level of confidence that they currently have in Super Cruise, we made improvements to both our software and hardware," Maiorana explained.
One of the biggest challenges was having the system catch other cars that may not readily be seen by the driver. "This included improving rear-facing sensors and advanced software algorithms so that the system can confidently track vehicles approaching from the rear," Maiorana continued. "As a result of these improvements, we are able to ensure that Super Cruise will hold in its current lane and only change when a sufficient gap exists."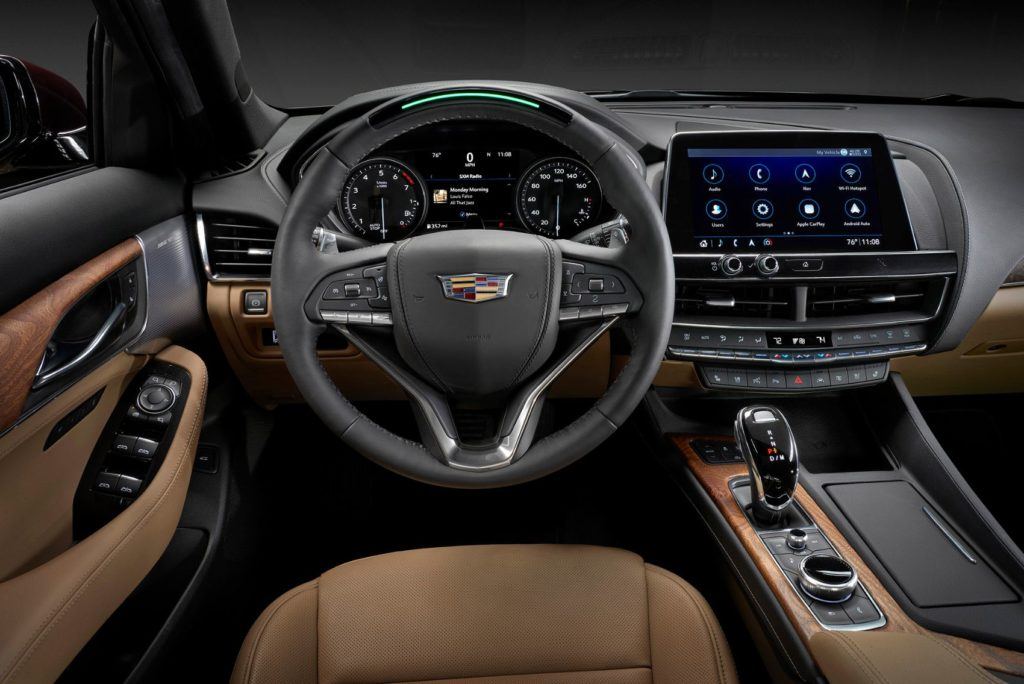 New Updates for Ease-of-Use
Cadillac says their main goal with any update to Super Cruise is to ensure intuitive and safe operation for the driver. To that end, engineers implemented richer map data to boost the effectiveness of Automated Lane Change, especially through turns and highway interchanges. The updates will take effect starting with the 2021 CT4, CT5, and Escalade.
One of the larger updates for Cadillac Super Cruise came last year when the system was expanded to include an additional 70,000 miles of compatible roadways in the United States and Canada. As it stands currently, Cadillac Super Cruise is available on more than 200,000 total miles of compatible highways in the U.S. and Canada.
"Expanding our offering of compatible highways will allow people the ease and convenience of traveling hands-free more often," Maiorana said.