---
The following is an excerpt from ADAS Guide 2021: Features & Packages by Manufacturer, a comprehensive look at how the world's top OEMs approach advanced safety technology. Along with descriptions of each ADAS feature offered currently by brand, the guide provides a deeper look into the propriety names manufacturers use for bundling ADAS technologies, what features they deem most important and are currently expanding on, what sensors they use, and how they approach advanced safety technology overall.
---
Each automobile manufacturer has its own suite of ADAS technologies, but there exists a fair amount of overlap in what they offer. Here is a list of the most common technologies and how they work to assist the driver.
Backup cameras provide a view directly behind the vehicle, preventing crashes by giving drivers increased ability to see their surroundings. The image typically appears when the vehicle shifts into reverse and appears either in the infotainment display on the dashboard or in a small display in the rearview mirror. According to NHTSA, the field of view generally includes a 10-foot by 20-foot zone directly behind the vehicle. As of May 2018, this technology is required on all new vehicles.
Rear cross-traffic alert senses when an object is within its sight (but possibly not within the driver's sight via the backup camera) and warns of a potential rear collision.
Rear automatic braking senses when an object (such as a vehicle, bicycle, pedestrian, or bouncing ball) enters its line of sight and automatically applies the vehicle's brakes to prevent a rear collision.
Forward collision warning senses a potential forward collision with another vehicle and alerts the driver. The system monitors vehicle speed, the speed of the vehicle in front, and the distance between the two. If the rear vehicle is moving too quickly and gets too close to the vehicle ahead, the system of the rear vehicle issues an alert.
Automatic emergency braking senses an impending forward collision with another vehicle and automatically applies the brakes to avoid or mitigate the crash. The system alerts the driver to take corrective action first, and in some cases, can supplement the driver's braking. According to NHTSA, such AEB technologies represent the next wave of potentially significant advances in vehicle safety. The AEB systems engage dynamic brake support (DBS) or crash imminent braking (CIB) to potentially save lives and reduce moderate and less severe rear-end crashes that are common on our roadways. CIB automatically applies brakes to slow or stop the car in the event the driver does not take action, and DBS automatically supplements the driver's braking action.
Pedestrian automatic emergency braking senses a pedestrian in or near a roadway and warns the driver. This system uses information from forward sensors, including radar and cameras, to apply or supplement the brakes automatically.
Lane departure warning detects the lane markings and provides a warning to the driver if the turn signal is not in operation and the vehicle unintentionally drifts over the lane marking. Meanwhile, Lane-keeping assist senses when the driver drifts out of the designated lane and automatically steers the vehicle back into its lane. Lane-keeping assist uses information from the lane departure warning system and corrects steering, braking, or acceleration (or a combination) to return the vehicle to its intended travel lane.
Blind spot detection senses a vehicle in a driver's blind spot and provides a warning. Designed to facilitate safe lane changes, these systems use camera or radar technologies to detect a vehicle in an adjacent lane. Some systems only provide a warning when the vehicle's turn signal is on.
Lane centering assist monitors the vehicle's position within its lane and provides continual adjustments to the steering to keep the vehicle centered within its lane.
Adaptive cruise control works to maintain a consistent pre-set following distance from the vehicle ahead, eliminating the need to constantly adjust the cruise control manually as road traffic situations change.
Highway pilot works with adaptive cruise control to maintain a consistent following distance from the vehicle in front and also maintains the vehicle's lane position. Traffic jam assist is similar to highway pilot in that it keeps the vehicle within the lane markings. It maintains consistent distance from the vehicle in front by automatically accelerating and braking, and does so in tighter traffic conditions.
Automatic crash notification alerts emergency responders that a crash has occurred. Sensors within the vehicle detect airbag deployment or sudden deceleration and connect to an operator who can collect basic information without passenger input. Accident location data is sent to first responders to decrease the amount of time for emergency services to arrive. According to NHTSA, these systems are beneficial to crash victims in rural areas, where there are typically fewer or no witnesses to call emergency responders.
Adaptive lighting senses the presence of oncoming vehicles and adjusts between high-beam and low-beam headlights to improve visibility.
Parking assist is often more about convenience rather than safety. However, the systems used in parking assist technology are shared by other ADAS features.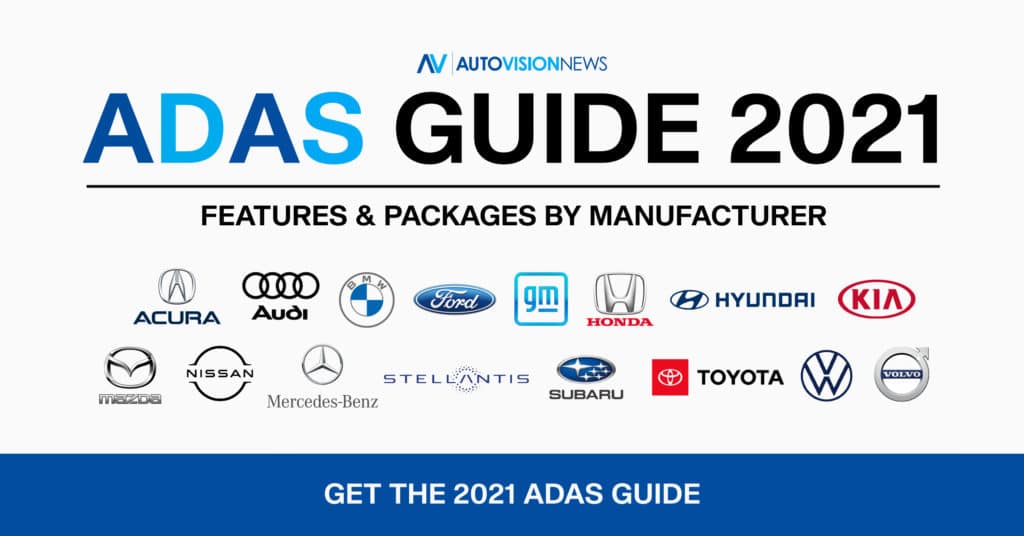 Why Are The Names So Confusing?
Each manufacturer has a unique way of presenting and describing its ADAS features. For the most part, however, the technologies achieve the same end goal. For example, automatic emergency braking helps the driver avoid collisions, regardless of the vehicle make or model or the proprietary names an automaker may have for that particular system. AEB is one of the most prevalent ASAD features today, with more than 30 percent of 2018 model year vehicles equipped with the technology.
Yet across manufacturers, there are 40 unique names for automatic emergency braking, according to research by AAA.
By examining 34 vehicle brands sold in the United States, AAA also found that adaptive cruise control has 20 different names, blind-spot warning and lane-keeping assist have 19 names each, and automatic high beams have 18 unique names. This can make vehicle shopping confusing for those who want the latest safety technology as they compare and contrast possible purchase decisions. "When somebody investigates another brand of car, their experience is made nearly worthless because of the many terms selected by carmakers," said Howard Abbey, an Autonomous Car Specialist at SBD Automotive. "There is really no need for so many different names to describe systems that function in a similar way."
Creating An Industry Standard
AAA is working to create an industry standard when it comes to naming ADAS technologies. A 2018 survey by AAA found that 40 percent of Americans expect systems with names like Autopilot, ProPILOT, and Pilot Assist to take over the responsibility of driving, when in fact, they do not. These systems can be significantly challenged by everyday, real-world conditions such as poor lane markings, unusual traffic patterns, and stationary vehicles. AAA notes that greater consistency across the industry will help consumers understand the type of ADAS technology their vehicle has and how, when, and where to use it.
"AAA is part of an effort to standardize naming in ADAS across the OEMs, and we started well over a year ago by releasing a report highlighting the complexity of this issue," said Greg Brannon, Director of Automotive Engineering and Industry Relations for AAA. "It's confusing for a consumer to understand what the system does and how they're supposed to interact with it when there are 20 different names for adaptive cruise control."
A joint effort between AAA, SAE International, Consumer Reports, J.D. Power, and the National Safety Council will provide a framework for developing naming standards across the industry. That framework will consist of a consumer guide and a separate, more detailed document for engineers.
The consumer-focused document called Clearing the Confusion: Recommended Common Naming for Advanced Driver Assistance Technologies categorizes current ADAS technologies under four main groups: collision warning, collision intervention, driving control assistance, and parking assistance. Another group includes features that help the driver but are not technically considered ADAS, like a heads-up display and automatic high beams.
A Clearer Picture For Industry Experts
While it's essential to address customer confusion around ADAS, we believe it's equally important for industry experts to have a clearer picture of what automakers offer today for advanced safety technology. That was the inspiration behind the 2021 ADAS Guide, which is available now.
Starting with Acura and ending with Volvo, the guide provides an in-depth look at what the world's top OEMs offer today on their vehicles for ADAS features. The guide examines the propriety names manufacturers use for bundling ADAS technologies, what features they deem most important and are currently expanding on, what sensors they use, and how they approach advanced safety technology overall.
Download The 2021 ADAS Guide
ADAS Guide 2021: Features & Packages by Manufacturer is available for purchase for $99 USD (a free preview is available here). The guide is a PDF download, so you can take it with you, be it on your laptop or mobile device. With the 2021 ADAS Guide, the advanced safety features offered by the world's leading OEMs will be at your fingertips.