Mercedes-Benz announced that it has met the legal requirements of UN-R157 for a Level 3 system. The German Federal Motor Transport Authority (KBA) has granted system approval based on the technical approval regulation of UN-R157, which may lead to offering such systems internationally in the future. With the opening of the Road Traffic Act (StVG) for Level 3 systems in 2017, Germany was the first country to create a legal basis for the intended use of these systems, with Mercedes-Benz being the first automaker to meet the aforementioned legal requirements around Level 3 systems.
Drive Pilot Feature
According to Mercedes-Benz, S-Class vehicles that can operate in a conditional automated capacity at speeds of up to 37 mph will be available for German customers in the first half of 2022. The feature, known as Drive Pilot, is designed to remove the stress for drivers caused by heavy traffic. When used on suitable stretches of highway in Germany, owners can also perform "car office" like activities through the Dirve Pilot interface. As of this writing, Mercedes-Benz is initially offering Drive Pilot capability on 8,197 miles of highway in Germany.
"With this LiDAR based system, we have developed an innovative technology for our vehicles that offers customers a unique, luxurious driving experience and gives them what matters most: time," explained Markus Schäfer, Member of the Board of Management of Daimler AG and Mercedes-Benz AG, Chief Technology Officer responsible for Development and Purchasing. "With the approval of the authorities, we have now achieved a breakthrough: We are the first manufacturer to put conditionally automated driving into series production in Germany."
Engaging Drive Pilot
The Drive Pilot feature is controlled via buttons on the steering wheel (on the left and right above the thumb recesses). When activated, the system controls the speed and distance to other cars ahead while also keeping the S-Class in its intended lane. The route profile, traffic signage, and road geometry are each accounted for, as are unexpected situations. According to Mercedes-Benz, when these types of use cases arise, Drive Pilot can initiate evasive maneuvers within the lane or apply the brakes.
"With this milestone, we are once again proving our pioneering work in automated driving and also initiating a radical paradigm shift," Schäfer added. "For the first time in 136 years of automotive history, the vehicle takes over the dynamic driving task under certain conditions."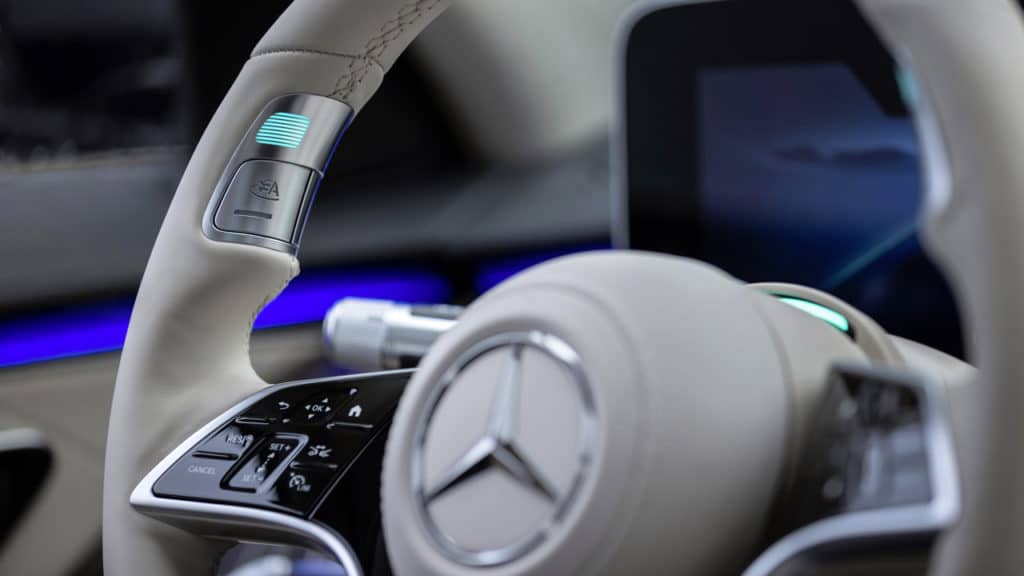 Additional Safety Layers
As described by Mercedes-Benz, Drive Pilot comprises sensor technology the automaker considers indispensable for the overall safety of autonomous driving of any kind. For Mercedes-Benz, this includes LiDAR, a moisture sensor in the wheel well, and a rear-window camera, plus microphones designed to detect blue lights and other emergency vehicles. Drive Pilot contains supplemental steering, braking, and electrical systems to allow the car to be maneuverable by the driver should an unexpected failure occur. In an emergency, Drive Pilot can stop the vehicle, turn the hazard lights on, unlock the doors and windows, and contact first responders.
With the announcement of Drive Pilot, Mercedes-Benz is also underscoring its commitment to safety via high-precision positioning systems. According to the automaker, the data gathered from satellite navigation is matched with data from an HD map and sensor data (LiDAR, camera, radar, and ultrasonic). This helps the S-Class with road geometry, route characteristics, landmarks, and traffic signs.
As described by Mercedes-Benz, the HD map provides a three-dimensional street and environment image. The map data is stored in backend data centers and updated constantly. Each vehicle also holds an image of this map information on board, continually compares it with the backend data, and updates the local data set if necessary. According to the automaker, this allows for more stable positioning, especially if there is a dirty sensor.
"Extensive test drives for this system are already underway, for example, in the USA and China," Mercedes-Benz said in a statement about Drive Pilot. "As soon as there is a national legal framework for conditionally automated operation in additional markets, the technology will be rolled out step by step."