Dataspeed has implemented new features to its Power Distribution System. The upgraded version, now known as the Intelligent Power Distribution System (iPDS), was announced after extensive testing at Dataspeed's headquarters in Rochester Hills, Michigan. "Power management and power distribution are often two of the most overlooked challenges when developing an autonomous vehicle platform," explained Nick Fleck, iPDS Product Specialist at Dataspeed Inc. "We chose to upgrade the iPDS to improve the overall robustness of the system to provide even more advanced features for testing and development."
Who is Dataspeed?
Dataspeed specializes in autonomous research and development, along with other vehicle integrations that assist engineers with their algorithm, sensor, and data research. Dataspeed's industrial-grade, by-wire solutions form the foundation of these platforms. Recently, Dataspeed worked with SafeAI on algorithm development for off-road vehicles.
How the Intelligent Power Distribution System Works
The iPDS powers and supports the instrumentation, computers, and sensors of a specific test vehicle. "The system is designed with commonly used communication interfaces to support drive-by-wire autonomous vehicle research, advanced driver assistance systems experimentation, and any automotive electronics testing," Fleck said.
The iPDS features 12 automotive independent DC relay channels, two long-life cooling fans, plus internal sensors for channel temperature monitoring. The on-board computer controls the power sequencing and monitors each channel, reporting its electrical current and health status. Feedback and diagnostics like this, according to Fleck, help engineers address any issues they may encounter.
"If a sensor or computer pulls too much power, wiring is shorted, or something came unplugged, you can see the system status at just a glance," he said.
One key feature is a programmable startup and shutdown function to allow for power sequencing. If an engineer needs a sensor to begin before the control computer, they can set the startup sequence to turn on the sensor's power channel. From there, they can either wait for a certain amount of time or hold for the current draw to be over a particular threshold; then turn on the computer's power channel.
"All of the channels can also be enabled or disabled over CAN or Ethernet for even more flexibility," Fleck added.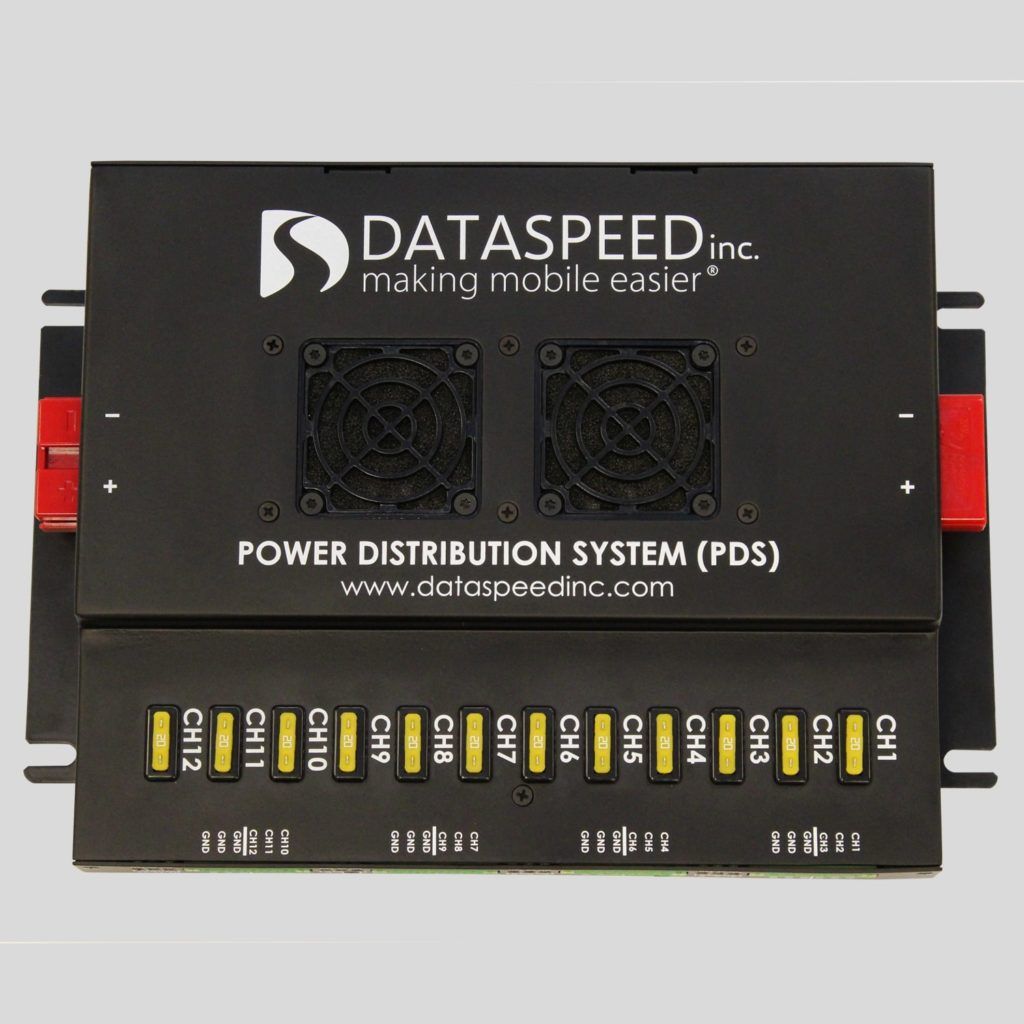 Testing & Validation
Among the priority upgrades was the addition of new temperature management controls since power distribution systems can generate heat levels high enough to compromise equipment in the trunk or other storage areas. Dataspeed's engineers conducted over 60 different tests to find an optimal setup that would reduce heat but also bolster performance.
"Early tests were based on fan speed, type of fan, type of fan filter, type of gap pad, and ideal exhaust location," Fleck explained. "Next, we did a series of location tests, including scenarios such as running in a hot car on a summer day."
Fans & Temperature Controls
The new iPDS has enhanced internal fans and supplemental heat sensors to help monitor the operating temperature. If the internal temperature of the iPDS reaches 45 °C, the fans turn on automatically. Conversely, when the internal temperature drops below 40 °C, they switch off.
"All in all, we engineered comprehensive heat reduction components that reduce the internal temperature by roughly 40 to 50 percent to extend the overall life of the system," Fleck said.
In addition to temperature control, Dataspeed also looked at how to further protect the output channels. "Under high inductive loads, shutting off a channel could cause harmful voltage spikes," Fleck explained. "We engineered protection circuitry to ensure no harm results to either the iPDS or any connected components."
Availability
The Dataspeed iPDS is available now and can be ordered through their website.
Intelligent Power Distribution System: Specifications & Features
Over-current feedback and diagnostics.
CAN, Ethernet, and USB communication.
Programmable startup and shutdown scripts.
Connect up to four units together for 48 channels.
12 channels at 12V, 15A each | Can run at 24V, at 10A each.
Components Powered by Dataspeed's iPDS Kit:
Cameras
Car Motors
Computers
Lidar Systems
Radar Systems
Data Recorders
Powering Infotainment
Drive-By-Wire Systems, such as the Dataspeed By-Wire Kit