Toyota's independent software and innovation center, Toyota Connected North America (TCNA), has unveiled its Connected Cabin Awareness Concept. The system uses a millimeter-wave, high-resolution 4D imaging radar to help detect occupants or pets left behind inside a car. For instance, the 4D imaging radar sensor can detect micro-movements like heartbeats, respiration, and slight motions across all three rows of an SUV or minivan. It also senses movements in the cargo area and footwells.
"We are extremely proud of our efforts to take this idea from the drawing board to a full-blown concept, and hopefully, developing a technology that has the potential to save lives," said Zack Hicks, CEO and President, TCNA, and Executive Vice President and Chief Digital Officer, Toyota Motor North America (TMNA). "Toyota Connected's talented software engineers and data scientists are leveraging cutting-edge technology to bring innovation and advanced technologies to customer's vehicles."
Connected Cabin Awareness Applications
According to a report by Kids and Cars, 23 U.S. children died of heat stroke in 2021, and all the victims lost their lives inside a hot vehicle. The report adds one in four children that died in a hot car obtained access to the vehicle while it was unattended or not operational, and studies show that a child's body temperature could rise three to five times faster than adults. On average, a car's interior can reach up to 125°F in under 10 minutes even when the outside temperature is as low as 60°F.
"We are excited to explore and leverage new technologies, connected intelligence, and existing safety platforms, with the ultimate goal of reducing child fatalities in hot cars," said Brian Kursar, Chief Technology Officer, TCNA and Group Vice President, Chief Technology Officer and Chief Data Officer, TMNA. "This Cabin Awareness concept has the potential to do exactly that."
The Connected Cabin Awareness Concept can do more than detect heartbeats and motion. The platform offers accurate sensing even if blankets cover your pets, occupants, or other living things, which someone passing by would be unable to see. TNCA adds the 4D imaging radar performs on a higher level than weight sensors, cameras, or radar systems currently in use, most of which are prone to false alerts, misdetections, blind spots, and limited range detection. "With the precision of these sensors, we're designing Cabin Awareness to reduce false positives and false negatives," added Simon Roberts, Managing Engineer, TCNA.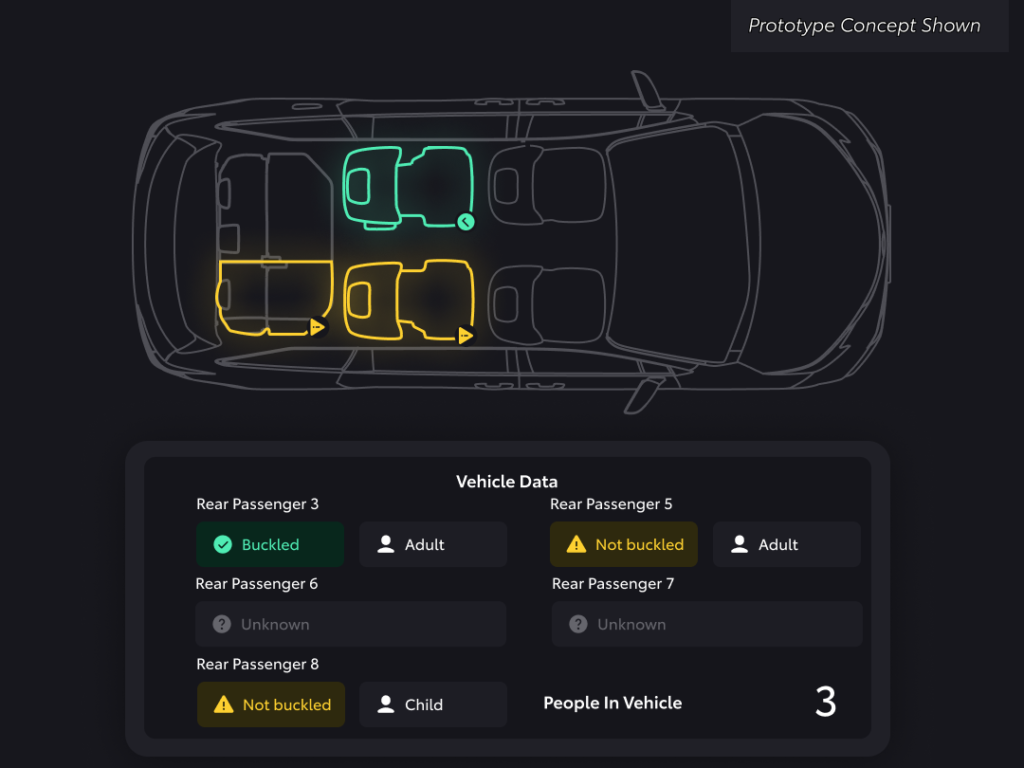 Great Inspirations
Toyota's Connected Cabin Awareness Concept can trace its roots to 2019, a fruit of the 36-hour Toyota Connected Hackathon event that challenges engineers and software designers to develop and test real-world solutions. The team began working with Vayyar Imaging's in-cabin monitoring platform to expand on the Cabin Awareness technology.
According to TCNA, its newest Cabin Awareness concept drew inspiration from the microwave radar technology of NASA's Jet Propulsion Laboratory. The same technology helped underground rescuers search for survivors after the 7.8-magnitude earthquake in Nepal in 2015, and NASA's radar detected human breathing patterns and heartbeats under more than 30 feet of rubble.
"The idea that you can listen to heartbeats using contact-less technology opens up new possibilities to give Toyota the potential to produce a service that is beneficial to the evolution of our in-vehicle services," Kursar said.
Repeat Notifications
The current version of TCNA's Cabin Awareness Concept will issue warnings to help alert the driver (or any passerby) of humans or pets left inside a parked vehicle. The first warning is light signals on the instrument cluster. Next comes a honk of the horn, followed by flashing hazard lights. The final warnings are smartphone notifications (via the Toyota app) or text messages.
TCNA could program Cabin Awareness to send alerts to smart home devices or text messages to designated emergency contacts. Other options include contacting first responders through the integrated SOS vehicle function via Toyota's Safety Connect emergency assistance system. Furthermore, TCNA is exploring additional notification alerts like vehicle-to-vehicle (V2V) communications and retail signages from smart infrastructures.