South Korean carmaker Hyundai has unveiled its newest EV, the Ioniq 6 sedan. The smooth and svelte Hyundai Ioniq 6 is the much-awaited follow-up to the first member of the Ioniq EV family, the angular Ioniq 5 that was first unveiled not long ago in 2021. Like the Ioniq 5, the new Ioniq 6 started life as a concept vehicle, the Hyundai Prophecy EV that first debuted at the 2020 Geneva Auto Show.
However, the two EVS are worlds apart in the styling department, even though they are riding on a similar E-GMP (Electric Global Modular Platform) architecture. "Ioniq 6 connects an emotional convergence of functionality with aesthetics," said Sangyup Lee, Executive Vice President and Head of Hyundai Design Center. "We created the Ioniq 6 as a mindful cocoon that offers a personalized place for all."
Emotional Efficiency
The all-new Hyundai Ioniq 6 is not as hunkered-down or as dynamic in shape as its Prophecy forebearer. Still, there's valid reasoning behind the former's water-downed design compared to the concept vehicle unveiled in 2020. Whereas the Prophecy EV imagines the future of Hyundai's high-performance aspirations in the electrical realm, the production Ioniq 6 is taking a more customer-centric approach by redefining efficiency above all else.
The production-intent Ioniq 6 sits taller than Prophecy and has more vertically-oriented body panels. It retains the swoopy roofline and boattail rear end of the concept, though now it has active air flaps, optional digital side mirrors, and wheel gap reducers combined with a stretched wheelbase and shorter overhangs. Hyundai designers shifted from Prophecy's "Sensuous Sportiness" design philosophy to "Emotional Efficiency" in crafting the Ioniq 6's delicate shape, and it resulted in a 0.21 coefficient of drag to deliver better range numbers.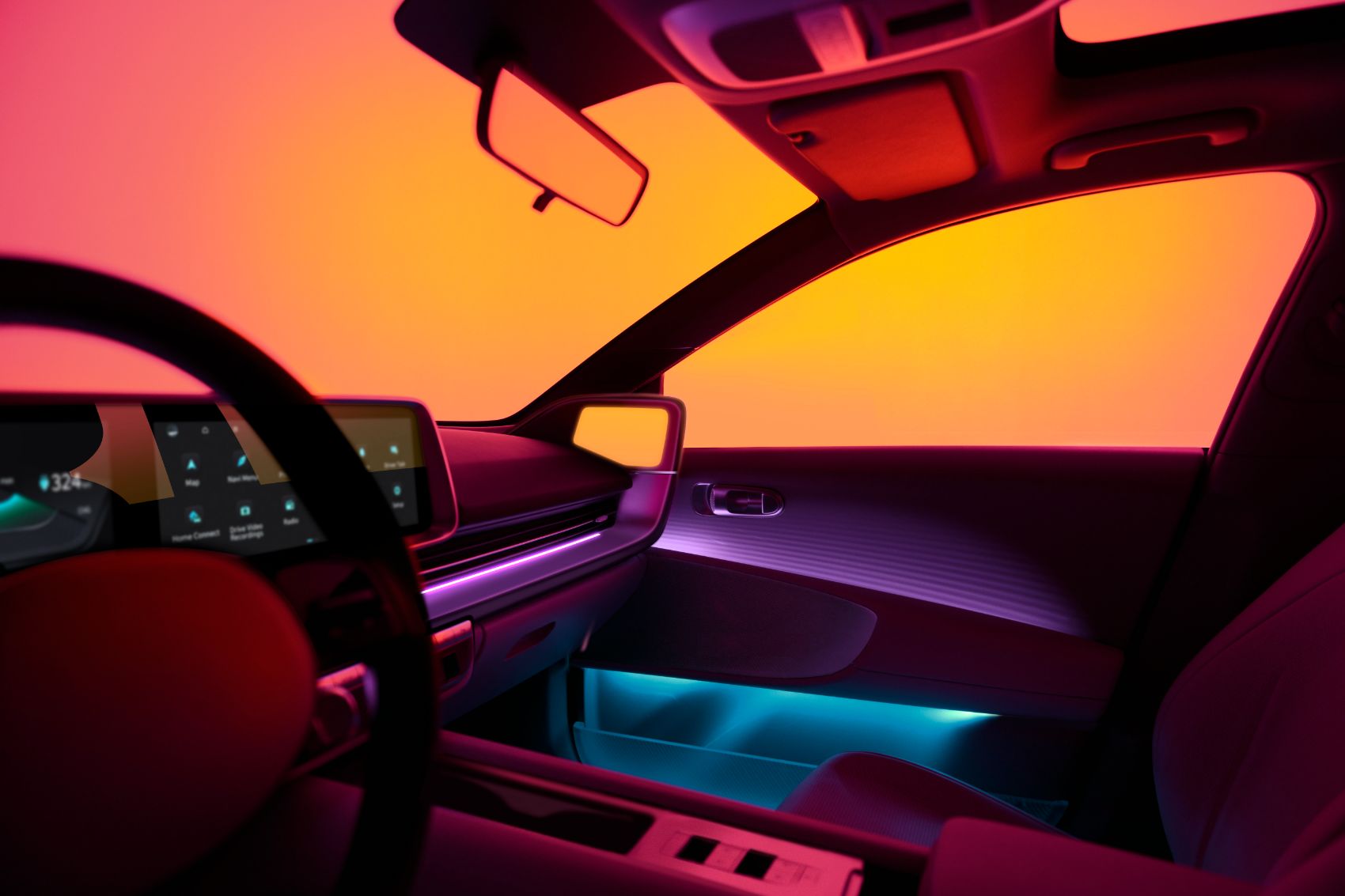 Parametric Pixel Lights
Hyundai has a knack for pixel LED lights like in the Ioniq 5, but the Ioniq 6 is taking it many steps further by offering upwards of 700 Parametric Pixels throughout the car. You'll find them in the headlights, the taillights, on the air vent garnishes, and on the center console. A standout feature in the Ioniq 6 is the rear wing, which features a Parametric Pixel stop light that displays animated light graphics when stepping on the brakes.
Meanwhile, the roomy interior is home to eco-friendly and sustainably sourced materials and trim. The Ioniq 6 is available with eco-process leather seats, recycled PET fabric upholstery, a bio PET headliner, and carpets made from recycled fishing nets. In addition, the doors feature paint derived from recycled vegetable oils.
Hyundai has yet to reveal the hardware and performance numbers, although the full specs, trims, technology features, and (hopefully) pricing will follow after the Ioniq 6's global debut in July 2022.