You might say this is a "doggone" good idea . . .
Ford is using a robotic version of man's best friend to help out around the Van Dyke Transmission Plant in Sterling Heights, Michigan. The 70-lbs. robo-pups can perform 360-degree camera scans, tackle 30-degree grades, and climb stairs like nobody's business. Ford is leasing two robots, affectionately named Fluffy and Spot, from Boston Dynamics (the name "Spot" is after the product's actual name from Boston Dynamics).
The robo-pups scope out hard-to-reach areas within the plant and scan them with lasers and high-definition cameras. The data they collect will be studied and analyzed by Ford engineers to retool the Van Dyke plant and possibly other manufacturing facilities in the future. 
"We design and build the plant. After that, over the years, changes are made that rarely get documented," explained Mark Goderis, Digital Engineering Manager, Ford Motor Company. "By having the robots scan our facility, we can see what it actually looks like now and build a new engineering model. That digital model is then used when we need to retool the plant for new products."
Simplifying the Retooling Process
The robots carry five individual cameras and trot around the Van Dyke Transmission Plant at up to three mph. The robo-pups scan the plant floor and assist engineers in updating the original Computer-Aided Design (CAD), which will help during the retooling process. Engineers at the plant take full advantage of Fluffy's two-hour battery life. 
"We used to use a tripod. We would walk around the facility stopping at different locations, each time standing around for five minutes waiting for the laser to scan," Goderis recalled about their prior method. "Scanning one plant could take two weeks. With Fluffy's help, we are able to do it in half the time."
The Robots May Save Ford Money
Normally, Ford spends upwards of $300,000 to scan a single facility like the Van Dyke Transmission Plant. If the robo-pups work and this pilot program is successful in Sterling Heights, Ford says their manufacturing teams could scan plants at a fraction of the cost. With the savings in time and money, Ford can move new vehicles to market quicker and more efficiently. 
"He can do so much more than dance and roll over," said Fluffy's handler Paula Wiebelhaus who gave the robot its name. Wiebelhaus, a Digital Manufacturing Engineer for Ford, believes there are dozens of applications and use cases for Fluffy. "We want to push him to the limits in the manufacturing plant and see what value he has for the company," she added.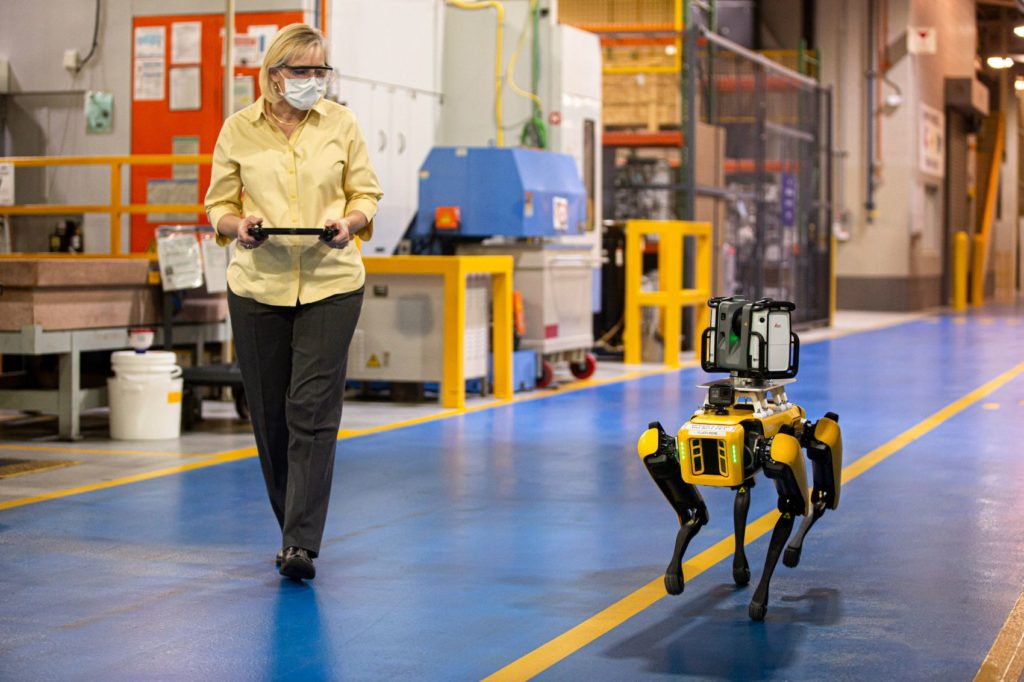 Engage Plant Missions!
Wiebelhaus controls Fluffy via a gaming-like device that allows her to see the robot's camera view remotely. Although the robo-pup travels a pre-assigned path, the controller Wiebelhaus uses can stop it from colliding with anything or anybody in the plant. Fluffy's max range is about 164 feet, although Goderis says they hope to operate the robots remotely. If so, the manufacturing and engineering teams can program them for "plant missions" anywhere in the United States.  
Fluffy to the Rescue
To conserve battery power, Fluffy will hitch a ride on Scouter, a small and round autonomous mobile robot. Scouter autonomously navigates the plant and scans, capturing 3D point clouds to generate a CAD of the facility. When Scouter reaches the end of the road, Fluffy springs into action. 
"There are areas in the plant that you might not want to walk into because they might be tough to maneuver," Wiebelhaus said, noting that Fluffy can change positions from a crouch to a stretch if necessary. "It's easier and safer to send Fluffy back there."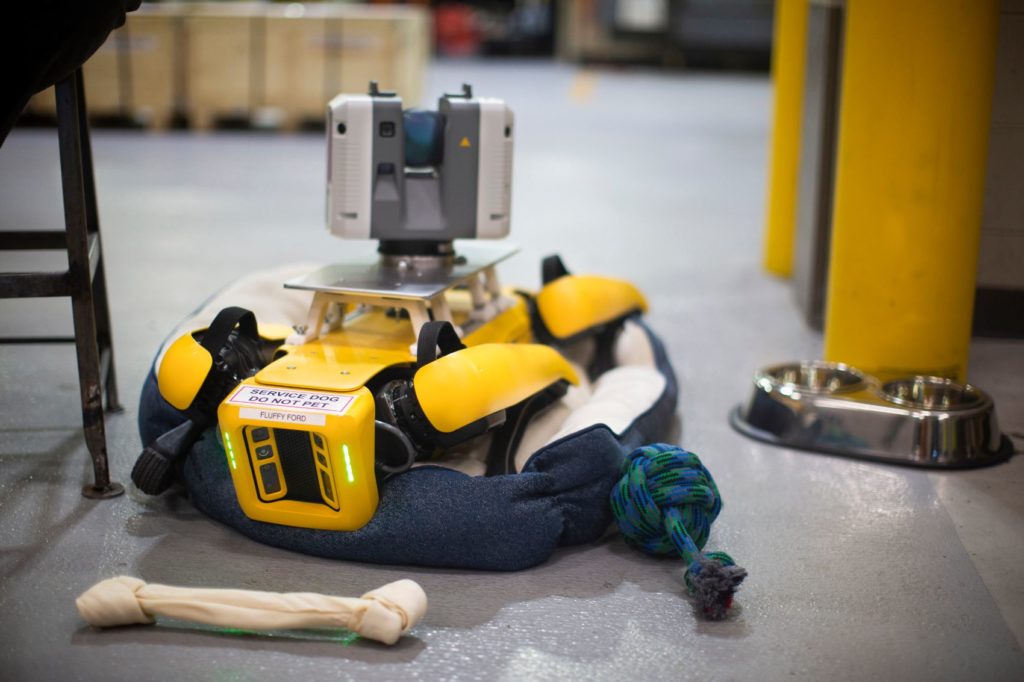 Fluffy in Action
The video below shows how robotic applications like this can be utilized now and in the future. In 2018, Ford of Europe began using drones to perform safety inspections on pipework, machinery, and roof areas. While the drone applications are neat, this one seems to tug on our heartstrings a little more.