German automaker Audi and its North American subsidiary Audi of America are firm believers in the benefits of C-V2X technology to make our roads safer while opening the doors to fully-autonomous driving. Audi partnered with Qualcomm, the Virginia DOT, and American Tower Corporation in 2020 for the initial deployment and testing of cellular vehicle-to-everything (C-V2X) technology in Virginia work zones. It took less than a year for Audi and the rest of the team to realize the real-world safety benefits of C-V2X.
After opening our eyes to the potential safety merits of C-V2X to enhance roadway safety, Audi conducted demonstrations earlier this year on how cellular communications technology could benefit cyclists in Oceanside, California. The carmaker announced a partnership with the mobility platform Spoke in March 2022 to explore the near-infinite possibilities and technical solutions for car-to-bicycle connectivity using C-V2X.
Ongoing Risk for Cyclists
The CDC estimates that nearly 1,000 cycling-related fatalities occur annually on American roads. Moreover, there are 130,00 reported injuries due to vehicle-related bicycle accidents, and the numbers are growing. Audi's C-V2X demonstration aims to reduce these numbers by showcasing potential use cases of vehicle-to-bicycle cellular technology. Potential benefits include proximity warnings (including front and rear collision warnings), left and right turn assist, cross traffic alerts, and parallel parking alerts, to name a few.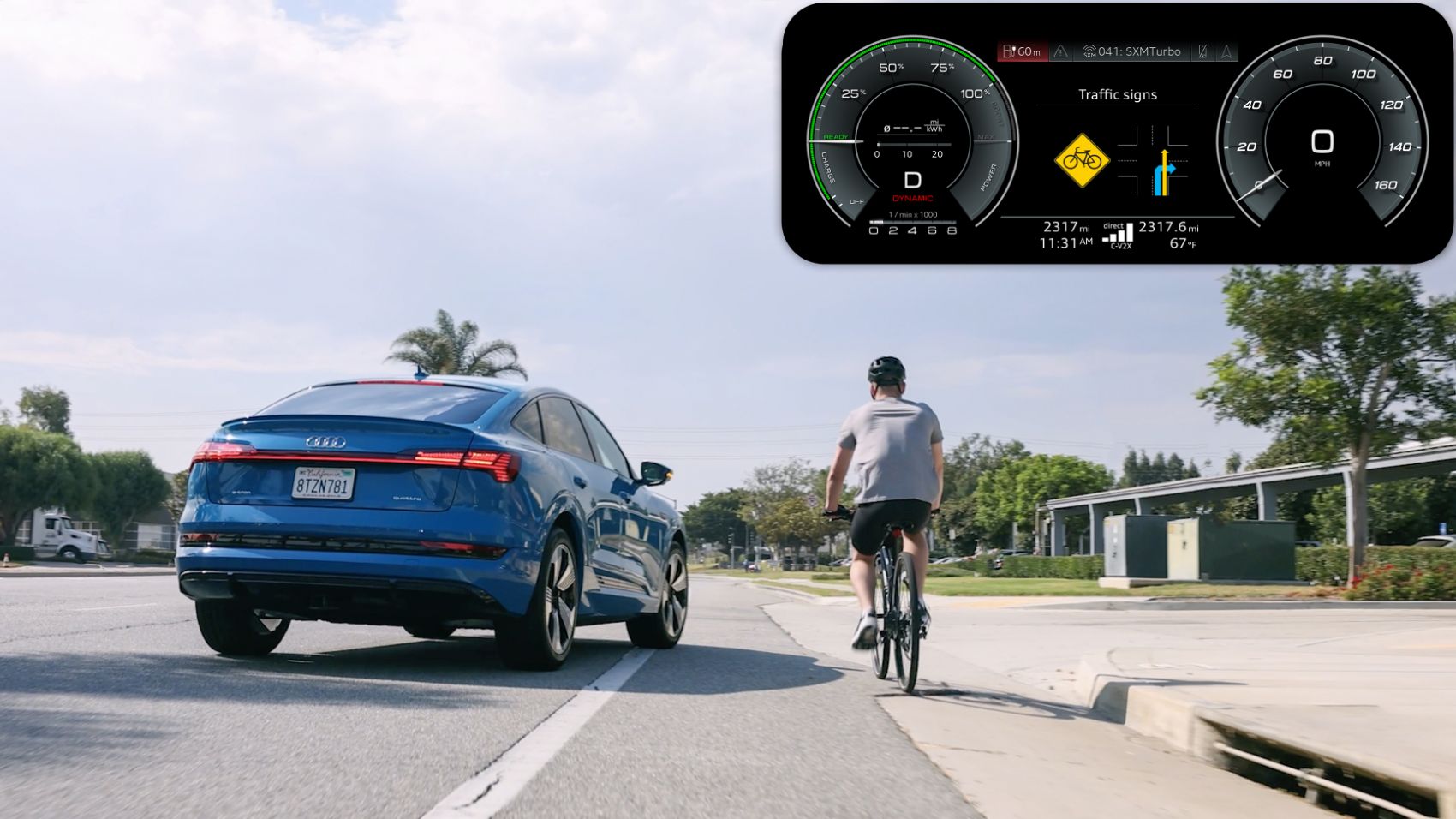 How C-V2X Works
C-V2X utilizes cellular communications technology between a vehicle and everything from road users, traffic lights, and road signs to school buses, roadside workers, and cylists. The technology sends visual and audible alerts to the driver as it approaches a C-V2X-enabled infrastructure. It enables drivers to become aware of potentially dangerous scenarios sooner than later (or too late in some cases).
Audi joined other automakers, tech innovators, states, and localities in seeking a waiver from the Federal Communications Commission (FCC) in early 2022 to deploy C-V2X on American roadways soon. The FCC is deliberating on the reliability of the wireless transportation spectrum and whether the system is viable for urgent V2X communications.