Audi of America, American Tower Corporation, Qualcomm Technologies, Inc., and the Virginia Department of Transportation (VDOT) have announced plans for an initial deployment of cellular vehicle-to-everything (C-V2X) communication technology. The initiative, first announced earlier this year, is meant to reduce fatalities on Virginia's roadways, particularly in work zones. C-V2X is designed to offer low-latency direct communications between vehicles, roadside infrastructure, and other vulnerable road users without the involvement of a cellular network, or cellular network subscription, by operating in the designated 5.9 GHz spectrum.
One of the initiative's primary goals, with involvement from both the public and private sector, is that C-V2X could be introduced to other locations globally. The companies are working with the Virginia Tech Transportation Institute (VTTI) and Commsignia on the initial deployment to achieve such a goal. That initial deployment will utilize the 5.9 GHz wireless communications band the Federal Communications Commission recently proposed to allocate for C-V2X.
Use Cases & Deployments
According to the companies, C-V2X implementation in Virginia provides an opportunity to focus on deployment models for two specific use cases: work zones and roadside worker safety, and traffic signal information. While many more applications can emerge from a C-V2X deployment, these use cases are particularly compelling to project stakeholders and set the stage for potential broad deployment, according to the companies.
"We are proud of the work we've done with Audi of America, VDOT, American Tower Corporation, VTTI, and Commsignia to not only showcase momentum and value of C-V2X to communities and stakeholders but to also innovate on deployments such as these to continue opening paths to widespread adoption," explained Jim Misener, Senior Director, Product Management, Qualcomm Technologies, Inc. "The Virginia deployment is a significant milestone, serving as a successful proof point showing public and private organizations working together to apply C-V2X to achieve transformative safety and mobility benefits."
"VDOT is excited to support the further exploration of C-V2X technology, deployed both in vehicles and in infrastructure," added Cathy McGhee, Virginia's Director of Transportation Research and Innovation. "We continually seek opportunities to apply technology in ways that provide safety and mobility benefits for Virginia roadway users, and joint efforts like this are incredibly valuable."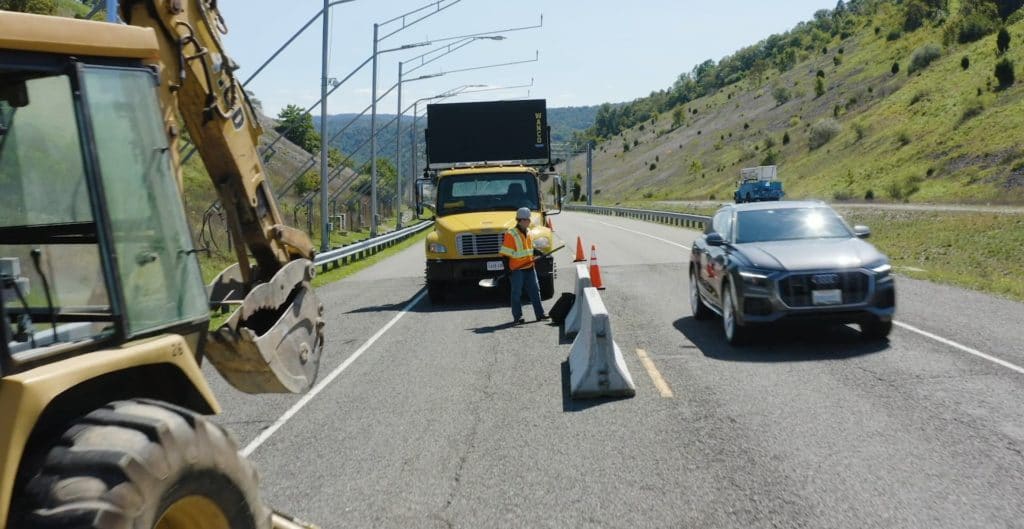 Construction & Work Zone Use Cases
Like the ones proposed by this initiative, roadside safety messages have great potential to make construction zones safer. Drivers who can receive such messages through low-latency direct communications know to be more alert when driving through a road construction zone. Similarly, vulnerable roadside and maintenance personnel can also receive messages and warnings that a vehicle is approaching via a C-V2X-enabled vest.
With the Virginia deployment, the organizations will have roadside personnel wearing vests equipped with C-V2X technology. Audi Q8 test vehicles, specially equipped with a Qualcomm C-V2X-based platform, will deliver warnings and alerts to drivers and personnel about each other's presence.
Traffic Signal Use Cases
Additionally, VDOT's signal controllers will broadcast signal status information through roadside infrastructure provided by Commsignia. The roadside infrastructure will transmit messages using C-V2X to the Audi Q8 test vehicles, which also support Audi's Traffic Light Information system.
American Tower Corporation will provide a neutral host model to drive value to multiple public and private stakeholders, helping to deliver safety and mobility services with C-V2X. The Virginia Tech Transportation Institute will develop the software and systems necessary to support the primary use cases defined for the initial deployment, with Commsignia supplying the roadside units and intelligent transportation systems stack for both the roadside and onboard units.
"We expect neutral host models and shared RSU enhanced infrastructure to play a key role in the deployment of C-V2X in the Virginia Connected Corridors, a connected vehicle environment in Northern Virginia," said Ed Knapp, CTO, American Tower. "We are pleased to be working with industry-leading organizations to identify ways to accelerate C-V2X technology adoption and 5G edge infrastructure at scale. Widespread adoption will deliver on the vision of intelligent roadways and intersections for enhanced safety and connectivity while also improving the environment and overall quality of life."
"The deployment of C-V2X on the Virginia Smart Road Corridor allows a new generation of vehicles capable of communicating not just through cellular towers but also directly with roadside infrastructure and vulnerable road users," added Pom Malhotra, Director, Connected Services, Audi of America. "Today's milestone will allow Audi to accelerate the deployment of innovative use cases that have the potential to increase driver confidence on the road by providing warning – and in the future, take autonomous action – when sensing an impending collision or even a traffic rule violation."