Stellantis will invest $155 million into three Kokomo, Indiana, plants to produce new electric drive modules (EDM) to power future EV models. The automaker plans to achieve 50 percent battery-electric sales in the U.S. by 2030 and intends to localize production of the forthcoming EDM in Kokomo. According to Stellantis, nearly 270 jobs across the facilities in Kokomo will be retained.  
Vehicle Integration
With more than 25 battery-electric vehicle (BEV) launches planned in the U.S. between now and 2030, the Kokomo-built EDM will be integrated into the STLA Large and STLA Frame platforms. The EDM comprises three main components: the electric motor, power electronics, and transmission. The optimized efficiency of the new EDM will help each platform achieve a driving range of up to 500 miles (800 km), according to Stellantis.
"While we continue our successful transition to a decarbonized future in our European operations, we are now setting those same foundational elements for the North American market," said Carlos Tavares, Stellantis CEO. "By combining the benefits of the EDM with our new BEV-centric platforms and innovative battery technologies, we will offer our customers a variety of electric vehicles with unparalleled performance and range at more affordable prices."
"With more than 7,000 employees in Indiana, these investments will leverage the core manufacturing competencies of the local workforce in the areas of casting, machining, and assembly, all of which will be needed even as the market transitions to an electrified future," added Mark Stewart, Stellantis North America COO.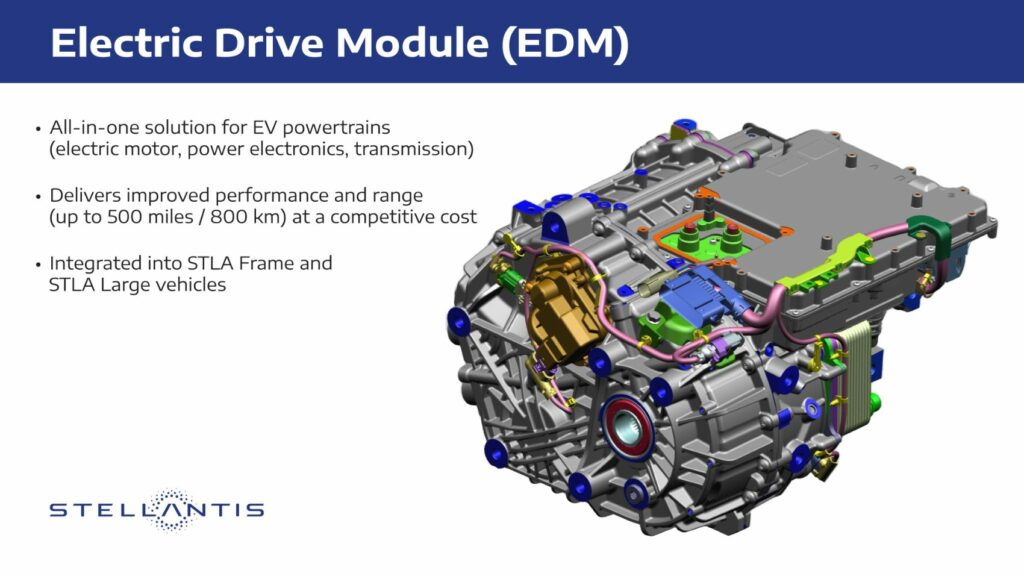 Kokomo Facilities
Investments will be made at the Indiana Transmission, Kokomo Transmission, and Kokomo Casting plants. As described by Stellantis, the gearbox cover will be cast at Kokomo Casting and machined at Kokomo Transmission, while gear machining and final assembly will be at the Indiana Transmission Plant. Following retooling, production is expected to start in the third quarter of 2024. Since 2020, Stellantis has invested nearly $3.3 billion in Indiana to support its transition to electrification.
"The city of Kokomo and the state of Indiana have been great partners for many years," Stewart said. "This community will continue to play a central role in our efforts to provide safe, clean, and affordable mobility solutions for our customers long into the future."