Arrival has announced its selection of the Ambarella CV2FS CVflow AI vision processor to enable autonomous driving and ADAS features for the Arrival Bus and Van. Arrival (NASDAQ: ARVL), a joint-stock company (société anonyme) governed by the laws of the Grand Duchy of Luxembourg, uses proprietary in-house developed components, materials, and software, to create electric vehicles that aim to help local communities on their path to sustainability.
New Safety Features For Arrival Vehicles
Ambarella's CV2FS CVflow AI vision processor will allow Arrival to offer safety features like lane departure warning, lane-keeping assist, blind-spot monitoring, vehicle, pedestrian, and cyclist detection, along with both traffic sign and traffic light recognition. In a joint statement, Arrival and Ambarella said these types of ADAS features are of paramount importance for commercial vehicles operating in busy urban environments. As such, the Ambarella CV2FS AI vision processor will offer Arrival an open platform for differentiated, high-performance automotive systems and other safety-critical applications.
"We are excited to be partnering with Ambarella, whose CV2FS AI vision processor provides the required neural network processing performance, stereovision support, and excellent image quality, all running at extremely low power," explained Sergey Malygin, EVP of Technology at Arrival. "This enables Arrival to bring ADAS features to commercial vehicles and operators to make their fleets safer and more efficient."
"Arrival has the potential to transform urban mobility with its integrated transportation ecosystem that includes vehicles, digital tools, and Microfactories," added Fermi Wang, CEO of Ambarella. "Our AI-based vision processing is enabling Arrival to meet the ever-increasing performance and functional safety requirements for autonomous vehicles."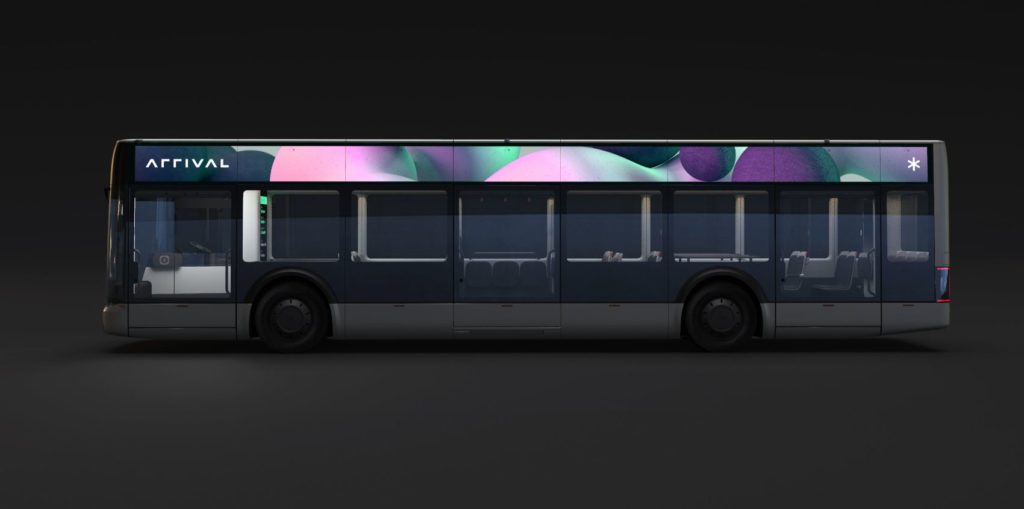 Arrival Vehicles
Bus
Thanks to its modular design, municipalities and city governments can order the Arrival Bus to fit the specific needs of the local community. Riders can request a stop or receive real-time updates via their smartphone. Wrap-around LED screens display route and seating information once inside. Around the same time as this partnership with Ambarella, Hitachi Europe announced a partnership with Arrival to deliver new bus and infrastructure solutions to the European bus industry.
"We're delighted to join forces with Arrival as we become the partner of choice for municipalities and bus operators to deliver end-to-end and integrated estate-wide rollouts of electric vehicles and infrastructure," said Mike Nugent, Head of EV at Hitachi Europe. "As governments look to phase out petrol and diesel vehicles in the next decade, providing the wide range of necessary solutions and technologies in an integrated, streamlined, and operationally-manageable way will be vital for bus operators and municipalities across Europe."
Van
Likewise, the Arrival Van offers a wide array of heights, lengths, and battery capacities, depending on the buyer's needs. Current configurations for the Arrival Van include cargo, chassis, passenger, and walk-in. Depending on the configuration, Arrival Vans offer a max payload of 4,630 lbs. (2,100 kg). Both front-wheel drive and all-wheel drive configurations are available.