The Hyundai Motor Group (HMG) unveiled its Smart City master model at Singapore's 2022 World Cities Summit after releasing its first vision at CES 2020. HMG's Smart City concept thrives on rejuvenating communities with innovative amenities like autonomous mobility, air mobility, robotics, and hydrogen fuel cell technology. The mock-up illustrates how intelligent mobility solutions and a human-centered layout could allow residents to embrace a more sustainable and modern urban living environment while remaining in touch with nature.
"Our ambition is for humankind to live with nature while embracing technology," said Youngcho Chi, HMG President and Chief Innovation Officer. "Our air and ground mobility solutions will redefine urban boundaries, connect people in meaningful ways, and revitalize cities."
Inspired By Nature
The Smart City concept features a honeycomb pattern inspired by nature. According to HMG, the hexagonal arrangement has a human-centered surface layer and a function-centered underground layer. The former has buildings encircled by recreational parks, forests, and a massive water reservoir at the city's center. The latter has road infrastructures to transport goods and services autonomously to and from the city. Moreover, the underground layer is home to each region's automated logistics hub, where autonomous robots roam freely and make pick-ups or deliveries.
Meanwhile, residents could travel between cities using flying cars or AAM (Advanced Air Mobility) vehicles that take off and land from various Hub 2.0 towers. HMG adds that the towers are residential and commercial areas with AAM ports on top of each building. HMG's subsidiary, Supernal, is developing an eVTOL (electric vertical take-off and landing) vehicle that the group plans to release commercially by 2028.
Hyundai recently launched a pair of Roboride autonomous ride-hailing taxis in South Korea, the first of its kind based on the automaker's popular Ioniq 5 EV. The EVs have Level 4 autonomous tech that could control the car's driving status with minimal human intervention. You wouldn't be amiss to imagine a fleet of these robotaxis ferrying residents around the Smart City.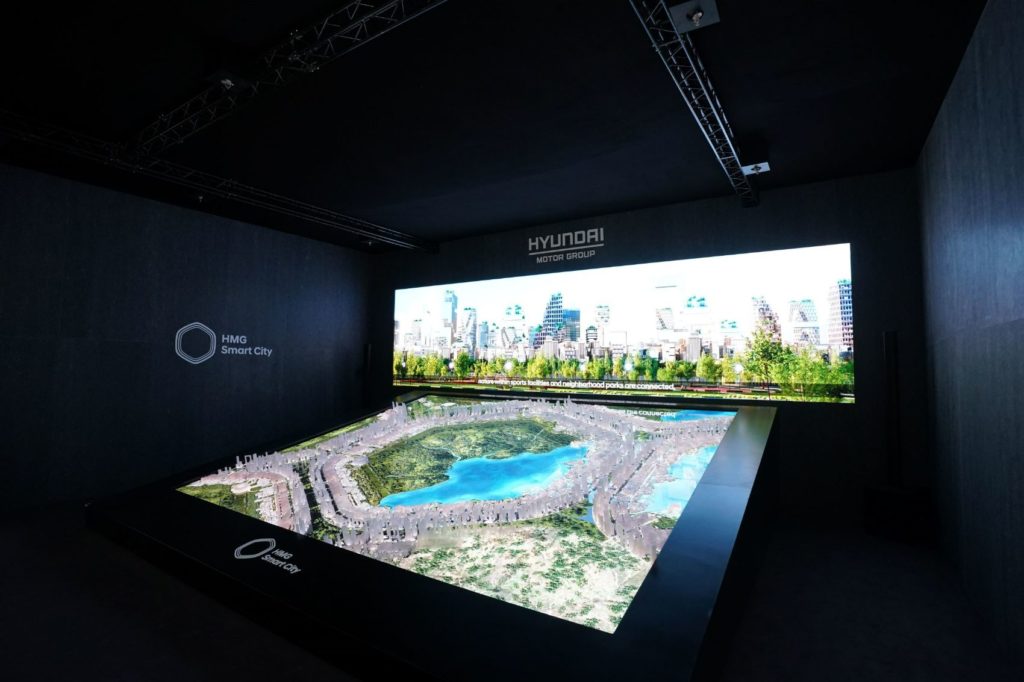 Clean Energy
Every bustling city needs a power source, but HMG's Smart City has a unique solution that foregoes the need to burn coal or fossil fuel. The carbon-neutral architecture means hydrogen is the primary power source. Smart City has unique grid pipelines that feed hydrogen to fuel cell generators in each building to generate electricity. "We will continue to work with governments around the globe to bring our vision to reality while advancing capabilities in future mobility solutions," Chi added.