Motional recently revealed its next-gen robotaxi and its first fully driverless commercial vehicle: the Hyundai IONIQ 5 Robotaxi. Unlike the traditional Hyundai IONIQ 5 EV unveiled earlier this year, Motional's self-driving taxi is an SAE Level 4 autonomous electric vehicle equipped with a combination of cameras, radar, and LiDAR sensors that provides 360-degree vehicle and road perception.
Joint Ventures & Level 4 Autonomy
The Hyundai IONIQ 5 Robotaxi also comes with Motional's driverless technology powered by advanced machine learning. "This robotaxi represents Motional's vision of a driverless future becoming a reality," said Karl Iagnemma, Motional President and CEO. "We're focused on mass commercialization, and the IONIQ 5 robotaxi is built for that purpose."
Motional's Hyundai IONIQ 5 Robotaxi is the brainchild of a partnership between Aptiv and the Hyundai Motor Group in 2019. The joint venture eventually led to the establishment of Motional in 2020 as an autonomous technology company and a global leader in driverless innovations. After conducting its inaugural testing of self-driving vehicles via the Lyft network in Las Vegas earlier this year, Motional received its "driverless license" to run more tests on both public and private roads.
Furthermore, Motional and Hyundai purposely built its IONIQ 5 Robotaxi to be Level 4 capable from the ground up. The EV has built-in safety redundancies for steering, navigation, braking, and power delivery to ensure a smooth and safe ride. "This deep collaboration enables us to manufacture a robotaxi that's both highly safe, reliable, and is cost-optimized for global production," Iagnemma added.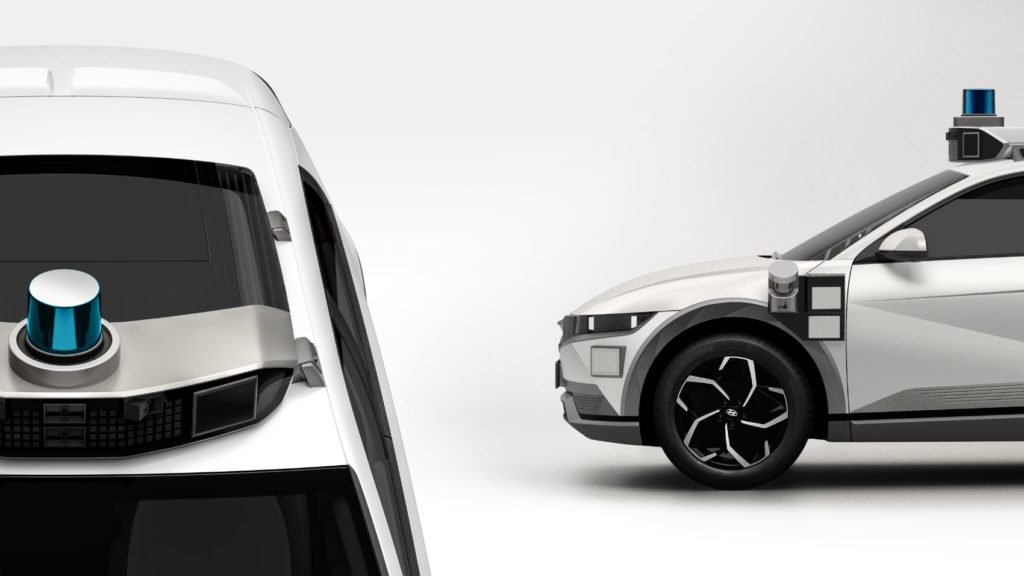 Remote Vehicle Assistance
In addition, Remote Vehicle Assistance (RVA) is part of the safety net and is standard to all Hyundai IONIQ 5 Robotaxis. Motional's remote operators can connect to the car and divert a new route whenever the vehicle encounters an uncommon road scenario like floods or construction. Meanwhile, the interior (based on the Hyundai Electric Global Modular Platform) has a suite of rider-focused interfaces that allows passengers to interact with the driverless vehicle. Making an extra stop is now possible with the Hyundai IONIQ 5 Robotaxi, and this feature sets new standards for driverless ride-hailing services.
"By successfully integrating IONIQ 5 Robotaxi with Motional's autonomous driving technology, we are proud to announce that we have achieved another important milestone on the road to the commercialization of our robotaxi," said Woongjun Jang, Head of the Autonomous Driving Center at Hyundai Motor Group.
IONIQ 5 Robotaxi In-Person
Motional and Hyundai will officially debut the IONIQ 5 Robotaxi at the IAA Mobility Show in Munich, Germany. The vehicle will be on display from September 7th through the 12th. Motional will commence its driverless ride-hailing service and begin transporting public passengers in 2023 through its partnership with Lyft.